Machinists to Vote on 777X Offer as Boeing Vets State Finalists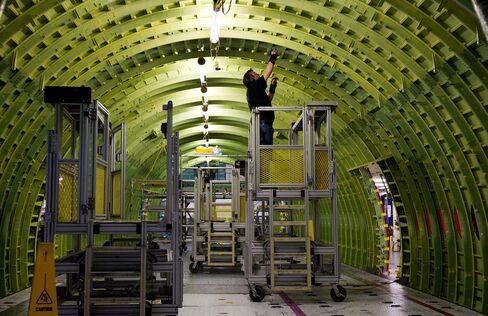 Boeing Co. machinists will vote Jan. 3 on a 777X-related contract offer rejected earlier by district union leaders as the planemaker studies state proposals to lure manufacturing of the new aircraft out of Washington.
The vote was "ordered" by Machinists' International President R. Thomas Buffenbarger over objections of officials of District 751, the local union said in a statement posted today on its website.
Frank Larkin, a spokesman for the international union, said in a phone interview that the vote date hadn't been finalized and downplayed a schism over concessions sought by Boeing in exchange for a guarantee that its first new aircraft for the 2020s will be built in its Seattle-area industrial hub.
"Everyone agrees the members have a right to express their opinion as well" on Boeing's offer, Larkin said.
Union leaders rejected the eight-year contract extension Dec. 12, because Boeing insisted on freezing pensions at the 31,000-member union and eventually replacing them with a 401(k)- style plan.
Boeing yesterday began telling states competing for a share of its 777X-jet production whether they are still in the running to land the new aircraft, Doug Alder, a Boeing spokesman, said in an e-mail. Boeing teams continue to evaluate sites, and the Chicago-based planemaker expects to make a final decision early next year.
Factory Incentives
Assembling the twin-aisle jet and its composite wings may generate thousands of jobs, a lure that spurred states including Washington, home of Boeing's commercial operations, to dangle billions of dollars in incentives to win the factory.
The union peace that Boeing seeks in Washington has proven elusive after 67 percent of members last month voted to reject an earlier offer that also would have eliminated pensions.
Boeing sweetened its terms by offering a total of $15,000 per member in bonuses and keeping in place a seniority system that allowed workers to reach the top of the pay scale within six years.
"Members need to look at the facts of the economic destruction they would live under for the next 11 years -- without any opportunity to change those economic proposals or any other provision of the contract," District 751 said on its website. "And all of this comes as Boeing is experiencing record profits and backlogs, not to mention the $10 billion stock buyback the Boeing Board approved just this last week."