Japan Unveils Record 2014 Budget Draft as Debt Burden Mounts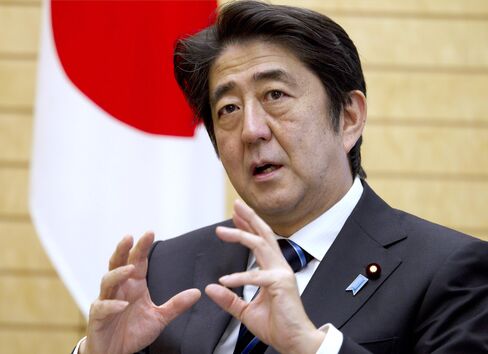 Japan unveiled a record budget for the next fiscal year, as Prime Minister Shinzo Abe boosts spending on social security, defense and public works while trying to contain the growth of the world's biggest debt burden.
Government ministers and the ruling coalition adopted the 95.88 trillion yen ($921 billion) budget proposal for the fiscal year starting April 1 at a meeting yesterday in Tokyo, Finance Minister Taro Aso told reporters. Japan will issue 41.25 trillion yen of new revenue bonds, Aso said, less than the 42.9 trillion yen earmarked in this year's initial budget.
Abe aims to pull the country out of a 15-year deflationary malaise and cope with the rising welfare costs of its aging population, while containing public debt that's more than twice the size of the economy. His government has pledged to halve the primary balance deficit by fiscal 2015 and achieve a surplus by fiscal 2020.
"The government needs to show that it's moving in the right direction on fiscal discipline but this budget lacks punch," said Yoshimasa Maruyama, chief economist at Itochu Corp. in Tokyo. "The government must cut spending to reach the planned target of a surplus in 2020."
Improving Deficit
The government "will simultaneously achieve the revitalization of the economy and fiscal consolidation," Abe said yesterday at the meeting of government ministers and the ruling coalition, adding that the budget draft will be submitted to Parliament in the new year for debate.
Japan's growth slowed for a second straight quarter in July-September, as the initial impulse of Abe's reflationary policies, dubbed Abenomics, started to fade. While an increase in the sales tax in April will boost revenue, enabling the government to check bond issuance, it is forecast to push the economy into contraction, adding headwinds to Abe's efforts to drive sustained recovery in the world's third-biggest economy.
Revenue from bond sales will pay for 43 percent of next year's budget, down from 46.3 percent this year, according to draft budget documents obtained yesterday by Bloomberg News from a government official. Debt-servicing costs -- including interest payments for outstanding bond issuance -- will rise to 23.3 trillion yen from 22.2 trillion yen this year, the documents show.
Japan's primary balance deficit will improve by 5.2 trillion yen next year, Aso said, with tax revenue estimated to rise to 50 trillion yen. This compares with 43 trillion yen estimated for this year's initial budget.
Rising Revenue
In addition to the sales-levy bump, higher company tax payments as corporate profits rise will also help lift revenue. The sales tax will be increased to 8 percent from the current 5 percent from April 1, and the government plans to increase it again to 10 percent in 2015.
Social security spending will rise to 30.5 trillion yen next fiscal year, compared with 29.1 trillion yen this year, the draft budget documents show. The increase comes as the nation's aging population boosts costs for welfare and pensions.
Public works spending will rise by 680 billion yen to 5.96 trillion yen, and the defense budget will rise by 130 billion yen to 4.88 trillion yen, according to the documents.
Real gross domestic product will grow 1.4% in the year starting in April, according to the documents, which show nominal GDP growing 3.3% to 500.4 trillion yen.
The government in August released its medium-term fiscal reform plan that included a commitment to improve the nation's primary balance by about 4 trillion yen in both fiscal 2014 and 2015. The target is to halve the ratio of the primary deficit to Japan's gross domestic product to 3.3 percent by fiscal 2015 from the fiscal 2010 level of 6.6 percent, and then achieve a surplus in 2020.
Higher Taxes
The primary balance is calculated by subtracting expenditures excluding interest payments from revenues without bond sales, and was 23.2 trillion yen in deficit this year, according to the finance ministry.
The International Monetary Fund has urged Japan to go beyond the scheduled increases in the consumption levy, lifting it to "at least 15 percent" to decrease its debt.
The lack of detailed plans for deficit reduction in Japan and the U.S. combined with weak economic growth runs counter to efforts to cut the global debt burden, the IMF said in October. The fund predicts Japan's public debt will be 242 percent of GDP in 2014.
Before it's here, it's on the Bloomberg Terminal.
LEARN MORE