Years Later, Navistar Is Haunted by a Big Engine Blunder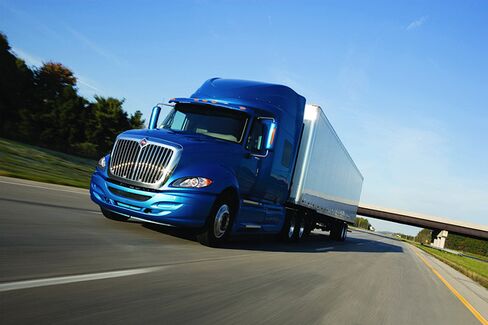 For much of the past decade, Navistar International, the largest U.S. builder of school buses and long-haul freight trucks, bet on a diesel engine emission technology that none of its rivals had adopted. That decision proved disastrous: more than $700 million lost, the ouster of its chief executive, and costs that continue to this day.
The company expects to pay warranty costs for its prior engines until the end of 2015, although executives said today that the expense has begun to decrease. "Clearly, we are disappointed that our previous engine strategy continues to negatively impact us in the form of additional warranty expense, but we will continue to stand behind our products and manage this issue as these engines work their way through the standard and extended warranty cycles," Troy Clarke, Navistar's president and CEO, said in a statement today.
Navistar sought to comply with federal engine emission rules that took effect in 2010 by using an exhaust gas recirculation (EGR) technology that funnels emissions back into the engine's cylinders as a way of lowering the nitrogen oxide that is released. The trouble for Navistar is that the technique did not reduce the emissions sufficiently to meet the U.S. rules, which led to the company paying a penalty of nearly $2,000 per engine. Rival engine makers, such as Cummins, Paccar, and Daimler, use a system called selective catalytic reduction that applies a urea-water fluid to the exhaust gases to convert the harmful nitrogen oxide to water and nitrogen.
In July 2012, the Lisle (Ill.) company reversed its decade-long course and said it would abandon the technology in its engines. The board soon ousted CEO Dan Ustian, and two months later the company reached a deal with Cummins to supply its widely used ISX15 diesel engines for Navistar's largest truck models. That engine also meets emissions requirements that take effect in 2014.
In the most recent quarter, sales slipped to $2.8 billion, down from $3.2 billion in the same period of 2012, as Navistar's market share remained weak owing to the broad switch in engine technologies. The company lost $154 million in the fourth quarter and $898 million for the year, which was better than analysts had expected. But the loss, coupled with the industry's seasonally weak first quarter and an expected drain on Navistar's cash position, sent the stock down more than 9 percent in early trading Friday before recovering somewhat. Navistar shares have gained nearly 73 percent this year, as its business recovered. The company also builds armored vehicles for the U.S. military. Billionaire investor Carl Icahn holds about 16 percent of the company and reached a deal this summer that gave him two board seats.
The company is working to reduce costs, including laying off 500 employees in the most recent quarter, saving $50 million to $60 million. Navistar is also analyzing sales data and other customer feedback to help determine how many of its own engines it ought to build vs. purchase from Cummins. The company has three engine manufacturing plants. "We don't need three," Clarke said today on a conference call.
Before it's here, it's on the Bloomberg Terminal.
LEARN MORE