London's 'Nappy Valley' Home Price Gains Outstrip Luxury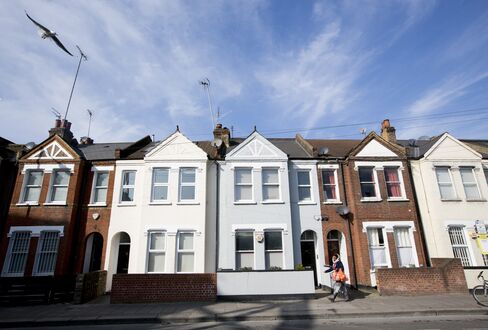 Home prices in southwest London areas known as "nappy valley" for their appeal to families have climbed almost twice as fast as those in the city's prime central neighborhoods this year as local buyers were priced out of the luxury market.
Values in the best parts of southwest London, which includes the family-friendly districts of Wandsworth, Clapham and Battersea as well as Fulham, have jumped 14 percent in 2013. That compares with a 7.9 percent gain in neighborhoods like Mayfair and Knightsbridge that are more popular with overseas buyers, Savills Plc said in a report today. It's the most that southwest London has outperformed the city center's best districts since 1999.
Investors from the Middle East to Asia have been buying luxury homes in central London, driving prices up beyond their levels before the financial crisis. That's put those areas beyond the budgets of most U.K.-based buyers and boosted areas including Fulham, where values are half as high.
"Domestic wealth will force the next stage of market recovery," Lucian Cook, a director of residential research at Savills, said in the report. He sees "more modest" growth in prime London and stronger regional gains next year "as wealth increasingly opts for a lifestyle move out of the capital."
Victorian Homes
Wandsworth, Battersea and Clapham are known for nappies, the British name for diapers, because of their appeal to families with young children who want to buy Victorian homes near parks and good schools, the broker said.
Home-prices across the U.K. capital will increase 11 percent next year as more people compete for a similar number of homes for sale, the Royal Institution of Chartered Surveyors said in a Dec. 19 report. The gain nationally is expected to be 8 percent, the group said.
Homes in Marylebone, north of the Oxford Street shopping corridor, have gained 17.4 percent this year, the most in London, according to the report. The district is popular with U.K. and overseas buyers because values are about a quarter less than the most expensive parts of London, such as the West End.
Values in Knightsbridge and Mayfair have this year risen 5.3 percent and 11.6 percent, respectively, the broker said.