China Money Rates Climb, Stocks Slide Due to Cash Crunch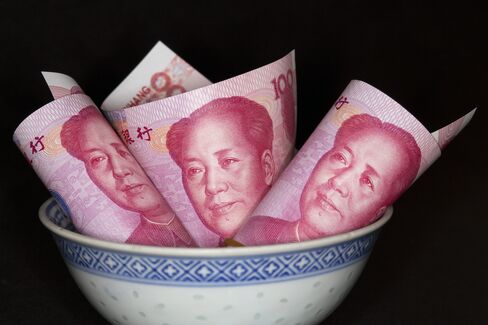 China's money-market rates surged and stocks dropped for a ninth day yesterday, the longest losing streak in 19 years, as targeted fund injections by the central bank failed to alleviate the worst cash crunch since June.
The seven-day repurchase rate, a gauge of liquidity in the financial system, increased 100 basis points to a six-month high of 7.6 percent in Shanghai, according to a daily fixing by the National Interbank Funding Center. It rose 328 basis points for the week, the most since January 2011. Transactions were recorded at rates ranging from 3.8 percent to 10 percent as of 4:17 p.m. yesterday local time, with a weighted average of 8.22 percent. The Shanghai Composite Index of shares slid 2 percent.
The People's Bank of China conducted more than 300 billion yuan ($49 billion) of short-term liquidity operations over three days, it said on its microblog yesterday, without stating the period, who the recipients were or what rate was charged for the financing. Yesterday's market reaction follows a statement from the central bank about the operations made to selected lenders that didn't specify the amount.
The banking system has excess reserves of more than 1.5 trillion yuan, a "relatively high level" historically for this period of the year, according to yesterday's statement.
There's a difference between doing "reverse repos at a regular open-market operation on Thursday mornings, or if you do behind-the-scenes SLOs," said Pin Ru Tan, an interest-rate strategist at HSBC Holdings Plc in Hong Kong. "Market participants have to be able to see it and know the quantity and tenor of liquidity assistance in order to be reassured. If they do not, it's natural to remain cautious."
Reverse Repos
Borrowing costs in China climbed in recent weeks as the government shifted toward allowing market-determined interest rates and as the central bank curbed cash injections in open-market operations. The monetary authority typically auctions repurchase or reverse-repurchase agreements on Tuesdays and Thursdays to manage the money supply and has refrained from offering the latter for more than two weeks, the longest pause since July. Reverse repos involve short-term asset purchases that add funds to the financial system.
The one-year interest-rate swap that exchanges fixed payments for the seven-day repo increased six basis points to 5.03 percent, according to data compiled by Bloomberg. It has climbed 106 basis points this quarter and reached 5.07 percent on Dec. 19, the highest in the data going back to 2006.
"Clearer communication from the central bank may help to calm market sentiment and prevent rates from rising further," Wang Tao, a Hong Kong-based economist at UBS AG, said in a note yesterday. "While we do not expect the current elevated levels in market rates to last, we do expect volatility to continue in China's money market for at least another couple of weeks."
PBOC's Challenge
The three-month Shanghai Interbank Offered Rate, or Shibor, climbed 12 basis points for the week and three basis points yesterday to a six-month high of 5.46 percent.
China's "highly leveraged and vulnerable" financial system, coupled with the year-end cash demand, have contributed to the surge in rates, Zhang Zhiwei, a Hong Kong-based economist at Nomura Holdings Inc., said in a Dec. 19 note. The Federal Reserve's decision to start cutting its monthly bond purchases by $10 billion a month also probably made some commercial banks nervous, according to Zhang.
"The fragile nature of the financial system remains a challenge for the central bank and poses a threat to the economy," Zhang said, adding he expects some defaults by local government financing vehicles, companies and non-bank financial institutions next year.
IPO Restart
The CSI 300 Index of shares slid 2.3 percent, with a gauge of financial companies dropping 3.1 percent to the lowest close since July.
Shares of Ping An Bank Co. declined 4.7 percent to 11.91 yuan in Shenzhen. The lender, a unit of China's second-largest insurer, met all of its payment obligations in the interbank market within the required timeframe, a press officer said, denying a rumor to the contrary.
Chinese regulators said initial public offerings, which have been suspended since October 2012, would resume in January. Fifty companies may complete IPO procedures next month, the China Securities Journal reported.
"The central bank said they have released funds but that could be just a short-term thing," said Xu Shengjun, an analyst at Jianghai Securities Co. in Shanghai. "It's not convincing to investors" that this will address tightening liquidity before IPOs resume in January, he said.