Zuckerberg, Facebook to Sell Almost $4 Billion in Shares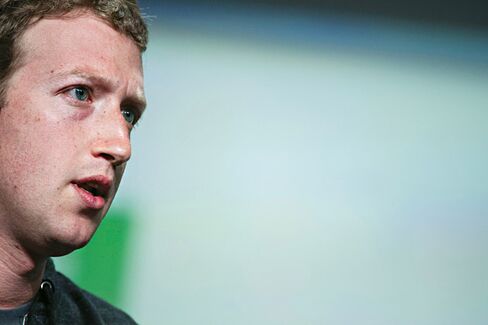 Facebook Chief Executive Officer Mark Zuckerberg knows what he's getting himself for the holidays. On the eve of his stock joining the Standard & Poor's 500-stock index, the billionaire is exercising an option to purchase 60 million supervoting Class B shares in his company. Facebook announced this morning that it will sell 70 million Class A shares to the public—41.35 million of them from Zuckerberg, most of which will go to pay the taxes on his options. The offering is worth $3.9 billion.
Joining the S&P 500 is a major milestone for the company, whose shares have long since recovered from their error-plagued IPO in May 2012. Facebook stock has returned 104 percent this year, far ahead of the index's 29 percent return. That's been the biggest driver of Zuckerberg's extraordinary increase in wealth in 2013, to $27.1 billion, according to the Bloomberg Billionaires database.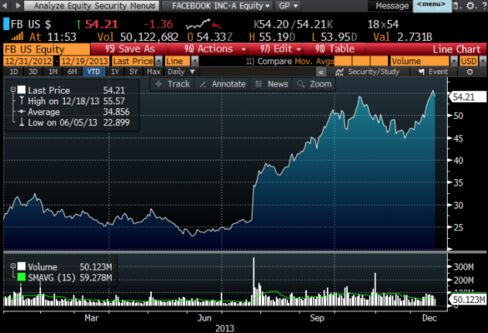 In a press release, Facebook said it had no particular use in mind for the money it will receive from the sale of just more than 27 million shares—not that there's any confusion about why the company is doing this.
"There's a motto in Silicon Valley, which is: You raise money when you can, not when you need," said Michael Wolf, of consulting firm Activate, this morning on Bloomberg TV. "They're taking advantage of this moment where people think the stock is doing well, the company is doing great, and it's gone back up."
Facebook shares fell sharply in premarket trading, then recovered to open down 2.2 percent.
The S&P 500 is at record levels after yesterday's announcement by the Federal Reserve that it will reduce its economic stimulus by just a small amount.
A U.S. Securities and Exchange Commission filing by Facebook this morning also discloses that Zuckerberg separately intends to donate some 18 million shares to charity before the end of the year. It's unknown whether that will benefit one recipient, several of them, or perhaps go to a Zuckerberg-controlled organization that would hang on to the asset.
Before it's here, it's on the Bloomberg Terminal.
LEARN MORE