S&P 500 Falls From Record Amid Economic Data After Fed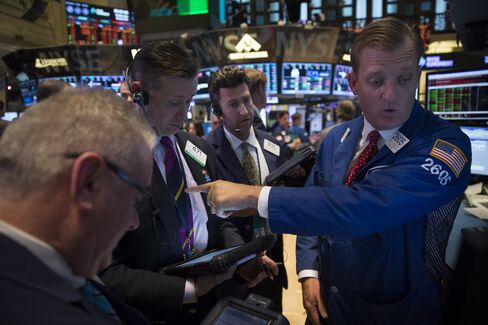 Dec. 19 (Bloomberg) -- The Standard & Poor's 500 Index retreated from a record, set after the Federal Reserve's decision to cut stimulus yesterday, as investors weighed economic data that included jobless claims and home sales.
Rite Aid Corp. dropped 10 percent after cutting its earnings forecast. Facebook Inc. lost 1 percent after saying the company and some shareholders, including Chief Executive Officer Mark Zuckerberg, will sell 70 million shares. Oracle Corp. rose 5.8 percent after forecasting third-quarter sales and profit in line with analysts' estimates.
The S&P 500 lost 0.1 percent to 1,809.60 at 4 p.m. in New York, trimming an earlier drop of 0.5 percent. The Dow Jones Industrial Average added 11.11 points, or 0.1 percent, to 16,179.08, extending an all-time high. About 6.4 billion shares changed hands on U.S. exchanges, 4 percent higher than the three-month average.
"You had such a sky-rocket yesterday in equities after the Fed announcement and really nothing has changed," Timothy Ghriskey, who oversees $1.5 billion as the chief investment officer at Solaris Group LLC, said by phone from Bedford Hills, New York. "There's a little bit of profit-taking off of that emotional spike."
The S&P 500 rose to 1,810.65 yesterday and the Dow reached a record 16,167.97 after the Fed said it will cut its monthly bond purchases to $75 billion from $85 billion starting in January as the labor market improves. The central bank also said it will likely keep its benchmark interest rates low "well past the time" that the jobless rate falls below its target of 6.5 percent.
December Rallies
Three rounds of monetary stimulus have sent the S&P 500 up 167 percent from a 12-year low in 2009. The equities benchmark has surged 27 percent this year, on course for the biggest annual gain since 1997.
The S&P 500 has added 0.2 percent this month, erasing an earlier decline of as much as 1.7 percent. December has been the second-best month for U.S. equity returns, according to data compiled by Bloomberg that starts in 1928. The average gain for the month is 1.5 percent, more than twice the overall monthly mean of 0.6 percent. The last December retreat for the S&P 500 was in 2007.
"The market is going higher and everybody knows it's going higher, so when you have any kind of selloff, you put any excess cash you have back to work," Tom Wirth, a senior investment officer for Chemung Canal Trust Co., in Elmira, New York, said in a telephone interview. His firm manages $1.7 billion. "I don't think that pattern is going to change any time in the near term."
Jobless Data
Data from the Labor Department today showed applications for unemployment benefits unexpectedly rose last week to an almost nine-month high of 379,000. The median forecast of 48 economists surveyed by Bloomberg called for a drop to 336,000.
A separate report showed previously owned home sales declined for the third consecutive month in November to the lowest level of the year as rising mortgage rates and a limited supply of properties discouraged buyers.
The Conference Board's index of U.S. leading economic indicators, a gauge of the outlook for the next three to six months, increased 0.8 percent in November, the New York-based group said. The median forecast of economists surveyed by Bloomberg called for an advance of 0.7 percent.
"It's clear that the economy is doing a little bit better and at the same time inflation is still low," Michael Strauss, chief investment strategist and chief economist at Commonfund Group in Wilton, Connecticut, said by phone. His firm oversees about $25 billion of assets. "That's sort of like the best of the world to the Fed to begin the tapering process and they did. The market is surprised and miffed by the initial claims data, but the reality is the data is probably not an accurate reflection" because of seasonal effects, he said.
Volatility Index
The Chicago Board Options Exchange Volatility Index gained 2.5 percent today to 14.15, paring a 15 percent decline from yesterday. The gauge of S&P 500 options known as the VIX is down 21 percent this year.
Six of 10 main S&P 500 industries declined. Utility stocks, which offer the second-highest yield among the index's groups, dropped 0.7 percent for the worst performance.
Real-estate stocks fell 1.1 percent as a group, the second most among 24 industries in the S&P 500. Health Care REIT Inc. declined 3.8 percent to $52.58 for the steepest loss in the index. HCP Inc., also a real estate investment trust company, slipped 2.8 percent to $35.80. REITs pay out the majority of their income as dividends.
Yields on 10-year Treasury notes touched a three-month high today on bets the Fed will conclude its bond-buying program by end of next year.
Yield Pressure
"Dividend and income strategy has been decidedly out of favor and anything that's been interest-rate sensitive has sold off," Steven Bulko, the New York-based chief investment officer of Lombard Odier's $1.3 billion long/short 1798 Fundamental Strategies Fund, said by telephone. "Clearly the market is telling you, from the equity perspective there are much more interesting and exciting things to be done in the stock space than the income yield replication trade."
Rite Aid declined 10 percent to $5.17. The third-largest U.S. drugstore chain said it expects to earn 23 cents a share at most in fiscal 2014, down from an earlier projection of as much as 27 cents.
Facebook lost 0.9 percent to $55.05. The social-networking service said it will use the proceeds from the stock sale for working capital and other general corporate purposes, while Zuckerberg will use the majority of his proceeds to pay taxes he will incur in connection with his exercise of an option to purchase 60 million shares.
Darden Restaurants Inc. slid 3.6 percent to $51.02 for the second-biggest drop in the S&P 500. The operator of the Olive Garden restaurant chain said it will spin off its Red Lobster business as part of a plan that includes halting acquisitions and cutting costs.
Target Corp. dropped 2.2 percent to $62.15. The second-largest U.S. discount chain said data for about 40 million debit and credit cards may have been wrongfully accessed in recent weeks and that law enforcement is investigating the matter.
Commodity Producers
Technology companies and commodity producers gained at least 0.2 percent to pace gains among S&P 500 groups. Chevron Corp. jumped 1.3 percent to $123.22 for the biggest advance in the Dow. International Business Machines Corp. rose 0.9 percent to $180.22.
Oracle advanced 5.8 percent to $36.60. The largest maker of database software said revenue in the period that ends in February will climb as much as 6 percent, and profit excluding acquisition-related expenses, stock-based compensation and other items will be as much as 72 cents a share. Analysts had estimated sales growth of 4 percent and earnings of 70 cents.
ConAgra Foods
ConAgra Foods Inc. rose 5.3 percent to $33.47. The maker of packed foods reported fiscal second-quarter revenue and adjusted earnings that surpassed analysts' estimates. The company also reaffirmed its full-year profit target.
Accenture Plc gained 5.1 percent to $79.51. The second-largest technology-consulting company reported quarterly profit that topped estimates as demand for its expertise resurfaced in the U.S. and Europe.
Bristol-Myers Squibb Co. gained 2.4 percent to $53.84. AstraZeneca Plc agreed to pay as much as $4.3 billion to buy the U.S. company's stake of a joint venture that makes diabetes drugs. The purchase gives AstraZeneca sole control of treatments such as Onglyza and Forxiga. New York-based Bristol-Myers is getting out of diabetes research to focus more on cancer treatments.
To contact the reporters on this story: Lu Wang in New York at lwang8@bloomberg.net; Whitney Kisling in New York at wkisling@bloomberg.net
To contact the editor responsible for this story: Lynn Thomasson at lthomasson@bloomberg.net