Pop Stars in Search of a Better Record Deal
A new kind of contract gives artists more control—and profit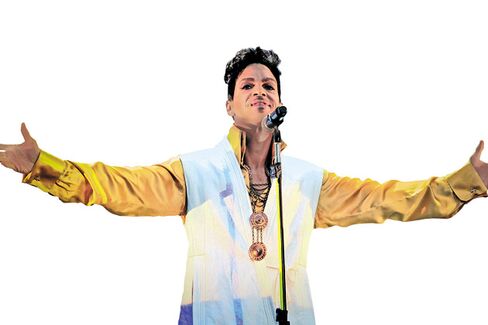 In the late 1990s, as the Backstreet Boys climbed to the top of the charts with hits such as I Want It That Way, they gained attention for more than just their music: The singers sued a former manager who they say cheated them out of millions of dollars. When it came time to release their most recent album, the band sought greater control and a bigger cut of the profits. For their eighth studio release, In a World Like This, the Backstreet Boys—now middle-aged men—abandoned the classic record company contract, turning to what the industry calls a label services company, which works almost like a consultant. Under these deals, bands call the shots on marketing and distribution, and they can receive more than triple the typical artist's share of earnings. "With this type of situation, you're responsible for getting the right staff and people behind it," says Peter Katsis, the Backstreet Boys' manager. "It falls on the artists."
The biggest of these newcomers, Berlin-based BMG, works with artists such as the Backstreet Boys, Bryan Ferry, and Anastacia. Competitors include Kobalt Label Services, which has deals with the Pet Shop Boys and Prince , and Cooking Vinyl, which works with dozens of acts, including Madness and Amanda Palmer. The success of label services has spurred traditional record companies to open similar divisions. "It's almost like the major labels are having a crisis of identity," says Mark Mulligan, a music industry analyst at Midia Consulting. "Artists don't have to go through a label to be successful anymore."
At BMG, 75 percent of the revenue typically goes to the artist and 25 percent to the company. Under a traditional label, a musician usually gets about 15 percent to 20 percent. Fees for marketing, manufacturing, and promotion are taken out of the artist's share under both kinds of contracts, so in the older deals there is often little or no money left after subtracting those costs. Only the biggest hitmakers earn much in royalties beyond their initial advance. "If you generated millions and your share is basically zero or minimal, and you're told, 'Be happy you're famous,' you want a change," says Hartwig Masuch, chief executive officer of BMG, a unit of German media house Bertelsmann, which sold its recording business to Sony in 2008.
The majority of acts that sign label services agreements—often for just one album—are more established and have outlived their first big record deal. Most can pay their own recording costs without an advance from a record company and have a management team to plan promotions. "It's hard for me to see how this model would work for new artists," says Mike Large, business manager for Peter Gabriel, who in September released And I'll Scratch Yours, his third album under a label services arrangement.
The Backstreet Boys' former manager, Lou Pearlman, is now serving a 25-year prison sentence after pleading guilty in a Florida court to involvement in an unrelated Ponzi scheme that cheated investors out of more than $300 million. The Backstreet Boys took Pearlman to court, saying their contract was unfair because he was paid to manage the group but also received payments as a sixth member of the band, even though he never took the stage. Another boy band Pearlman assembled, 'N Sync, pursued a similar lawsuit against him. Both cases were settled out of court.
The shift to label services is changing the music industry, with record companies becoming more transparent about how money is allocated, spent, and collected, says Simon Dyson, a music industry analyst at Informa Telecoms & Media in London. "It's fair to say that label services showed the majors how things could be done differently from the way they had run things for many years," he says.
To accommodate top-earning acts that want to make the change, Sony Music Entertainment is setting up a label services operation within its Red Associated Labels unit. Warner Music Group's ADA unit has offered similar deals since 2012 and is working with hip-hop artists Macklemore & Ryan Lewis. Universal Music Group's Caroline label services division, launched this year, is working with Gabriel, Korn, and others. "I don't think we're jumping on a bandwagon," says Michael Roe, managing director. "This is people in the industry reacting to the needs of artists and managers."
BMG's Masuch argues the label services deals make sense, because the Internet and digital technology have made it easier for fledgling acts to promote themselves. Bands with enough tech savvy can record an album at home for a few hundred dollars. Those with a flair for self-promotion can turn to YouTube, Facebook, and smaller websites such as Bandcamp and ReverbNation to reach new fans. And TV shows such as American Idol, The X Factor, and The Voice are allowing little-known talents to emerge. Megastars such as Macklemore & Lewis relied on YouTube to build a fan base, while Adele was offered a recording contract by a small indie label after a friend posted her demo on Myspace. Miley Cyrus and One Direction got their start on TV shows. "The role of labels in developing talent is completely overestimated," Masuch says. "What you need is TV exposure, social media, and advertising. Few acts are successful today just because radio decided to play them."
Before it's here, it's on the Bloomberg Terminal.
LEARN MORE