Korean Air Selling S-Oil Stake, Planes for 3.5 Trillion Won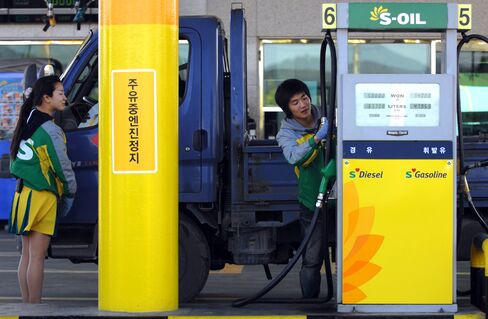 Korean Air Lines Co., the nation's biggest carrier, said it will sell assets to raise 3.5 trillion won ($3.3 billion) to reduce its burgeoning debt.
The airline will sell 30 million shares of refiner S-Oil Corp. to raise 2.2 trillion won, it said in a statement today. The company will also dispose 13 aircraft for 250 billion won and property and other assets for 1.04 trillion won.
Korean Air's affiliate Hanjin Shipping Co. also said it's selling assets including port terminals and bulk-carrier business to raise money. The companies are seeking to pare their debt as the nation's financial regulator is bolstering banks' monitoring on corporate lending following bankruptcy filings from some business groups known as chaebols.
"Pressure from lenders and regulators is forcing Korean Air to speed up efforts to improve its finance," said Kang Hyun Soo, an analyst at Hanwha Investment & Securities Co.
Shares of Korean Air fell 3.2 percent to 28,400 won in Seoul trading. The stock has dropped 47 percent this year. S-Oil slid 1.1 percent while Hanjin rose 1.4 percent today.
Korean Air will provide 100 billion won of additional financial aid to Hanjin Shipping, it said today. In October, the carrier said it would provide 150 billion won to Hanjin to help ease the company's "temporary" liquidity shortage. The airline is the biggest shareholder of Hanjin Shipping Holdings Co., the holding company that owns the largest stake in the shipping line. Both are members of Hanjin Group.
'Critical Importance'
"The support for Hanjin Shipping now becomes so obvious," said Kang. "Whether the shipping industry will recover next year is of critical importance to Korean Air."
The airline has a debt of 9.7 trillion won, according to data compiled by Bloomberg. As much as 3.16 trillion won of that debt is due next year.
South Korea's Financial Services Commission last month said it will ask lenders to apply stricter standards to monitor industrial groups' finances after affiliates of Woongjin Group, STX Group and Tongyang Group failed to meet debt obligation amid mounting debt since 2012.
Korean Air posted a loss in the first nine months because of weak travel demand on its Japan services. The company may report a loss of 284 billion won this year, according to the average of 13 analyst estimates compiled by Bloomberg.
CEO Quits
The carrier in October agreed to buy $3.7 billion of Boeing Co. aircraft to modernize its fleet. The 13 planes Korean Air is selling include Boeing 747-400 and 777-200, according to the statement.
Hanjin Shipping's Chief Executive Officer Kim Young Min resigned last month, taking responsibility for two successive years of losses at South Korea's largest shipper and a delay in getting financial support from creditors. The company posted a loss in each of the past 10 quarters.
The shipping line plans to raise 1.97 trillion won from sale of assets including terminals and bulk-carrier business and through loans, it said in a statement today. The company will also dispose old ships and shut unprofitable routes.
Hanjin Shipping aims to repay 1.25 trillion won of loans next year and 1.08 trillion won in 2015, it said. The company has a total debt of 5.57 trillion won, according to data compiled by Bloomberg.
S-Oil, the nation's third-biggest refiner, is 35 percent owned by Saudi Arabian Oil Co., known as Saudi Aramco, according to data compiled by Bloomberg. Korean Air's unit Hanjin Energy Co. is the second-biggest shareholder in the company with a 28 percent stake, the data show.
Korean Air is in talks with Saudi Aramco to sell its stake back to the company after Korean Air-led group purchased the stake in 2007, according to e-mail reply to Bloomberg questions today. MoneyToday Internet newspaper earlier reported the plan.
Before it's here, it's on the Bloomberg Terminal.
LEARN MORE