Obama to Sign First Budget by Divided Congress Since 1986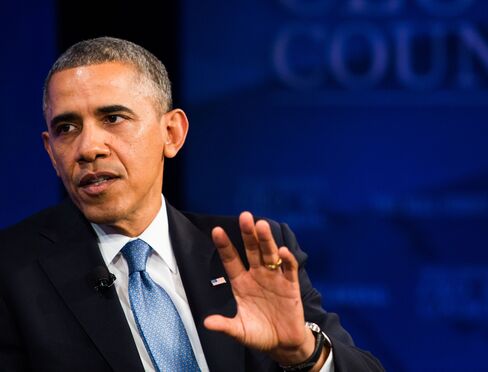 Dec. 19 (Bloomberg) -- President Barack Obama is poised to sign into law the first bipartisan budget produced by a divided Congress in 27 years, abating the fiscal discord that spurred a government shutdown in October.
The Senate yesterday passed a $1.01 trillion budget deal easing $63 billion in automatic spending cuts, raising user fees and lowering the U.S. deficit over 10 years. The plan keeps in place about half of the spending cuts known as sequestration for next year, and about three-quarters of the planned reductions for 2015.
Nine Republicans joined all Democrats to back the measure, which passed the Senate 64-36.
Neither party liked the cuts, which in January would have pinched Pentagon spending as well as domestic programs, setting the stage for a compromise at a time when the two chambers have been incapable of agreeing on almost anything. Neither party could find a way to erase them all in this compromise.
"It is not going to solve every problem but it is a step in the right direction and a dramatic improvement over the status quo," Senator Patty Murray, a Washington Democrat and chairman of the chamber's Budget Committee, said before the vote. "The American people are sick and tired of the constant crises we see out of Washington."
The deal crafted by Murray and Representative Paul Ryan, a Wisconsin Republican, doesn't include tax increases Republicans oppose or entitlement-program changes that Democrats resist. It will help prevent another government shutdown for the next two years, and Obama said he will sign it into law.
'Small Step'
The last time a divided Congress reached a budget agreement using its usual budget process was in 1986, when Democrats controlled the House and Republicans ran the Senate.
"This vote shows both parties -- in both chambers -- can find common ground," Ryan said. "We need to do a lot more. But it's a small step in the right direction."
The House on Dec. 12 passed the agreement 332-94, with backing from 73 percent of Republicans and 82 percent of Democrats.
The deal sets discretionary spending at $1.01 trillion for this fiscal year, higher than the $967 billion in the 2011 budget plan, leading some Republicans to vote against it. It raises fees, including for airline passengers, and cuts the budget deficit by $23 billion over 10 years.
Groups that advocate for limits on government spending criticized the agreement.
'Never Materialize'
"This budget may be a deal for Democrats and progressive Republicans, but it's a rip-off for citizens," said Matt Kibbe, president of FreedomWorks, a group that seeks less government and lower taxes. "Congress is once again raising taxes and spending now, for reductions promised later that will never materialize."
Senate Republicans Saxby Chambliss and Johnny Isakson of Georgia, Susan Collins of Maine, Orrin Hatch of Utah, John Hoeven of North Dakota, Ron Johnson of Wisconsin, John McCain of Arizona, Lisa Murkowski of Alaska and Rob Portman of Ohio voted with Democrats for the bill.
Senators Lamar Alexander of Tennessee, Roy Blunt of Missouri and Jeff Flake of Arizona, who voted to advance the measure for a vote, opposed final passage yesterday.
The limited agreement is the product of three years of failed talks to reach a grand bargain to trim the debt.
While the bill's passage marks a pause in the brinkmanship that led to the first government shutdown in 17 years, it's not clear that it will lead to a broader tax-and-spending agreement.
Entitlement Changes
For long-term deficit reduction, lawmakers would need to make changes to Social Security, Medicare and Medicaid, which make up almost half of federal spending.
Many lawmakers are hesitant to trim the programs amid lobbying from interest groups including AARP, the nation's largest seniors' lobby with 37 million members. Democrats want tax increases in exchange for such entitlement cuts, and Republicans refused to allow a single tax break to be eliminated as part of the deal.
The chances of lawmakers reaching a broad fiscal agreement are further lessened as Congress heads into an election year.
The automatic cuts were enacted because Congress has been unwilling to make tough fiscal decisions.
It was in 2011, with the U.S. on the brink of a debt default, that Congress created the deficit-reduction supercommittee. Lawmakers attached a hammer in the form of automatic spending cuts to domestic and defense programs -- with equal political pain for both parties -- to take effect if no deal was reached. It wasn't, and this agreement passed yesterday undoes some of those cuts.
Budget Panels
Congress this year created a 29-member committee, headed by Murray and Ryan, which was the fifth such bipartisan commission formed in three years to deal with the nation's debt and deficit. The first was Obama's 2010 commission led by former President Bill Clinton Chief of Staff Erskine Bowles and former Wyoming Senator Alan Simpson, a Republican, who couldn't get the votes to send their $4 trillion plan to Congress.
"With this agreement, Congress has exhausted nearly all of the easy choices available," Simpson and Bowles wrote in a Dec. 13 Los Angeles Times op-ed piece. "That leaves only tough choices for future deficit reduction or sequester replacement."
Lawmakers plan to make a technical correction to ensure that disabled veterans aren't hurt by a rollback in military pension benefits, Murray said on the floor. Republican Senators Lindsey Graham of South Carolina, Roger Wicker of Mississippi and Kelly Ayotte of New Hampshire had complained that benefits were cut for veterans forced to retire as a result of injuries.
Appropriations Process
Congress must now pass legislation by Jan. 15 that spells out the spending plans to avert a second government shutdown in four months. Lawmakers have begun drafting an omnibus appropriations bill that will implement the budget accord.
Senate Appropriations Committee Chairwoman Barbara Mikulski of Maryland told fellow Democrats during a closed-door meeting Dec. 17 that she plans to have a catchall spending bill ready for lawmakers to consider in January, Senate Majority Leader Harry Reid said.
Also, the plan leaves the door open to a possible fight over raising the debt limit as U.S. borrowing authority is set to lapse in February.
Congress suspended the debt limit through Feb. 7 as part of a deal to end a partial shutdown in October. After that date, the government can use so-called extraordinary measures to prevent missed payments. Treasury Secretary Jacob J. Lew has said those steps can last for about a month.
Republican Proposals
Republican leaders are considering several proposals they want to include with a debt-limit increase, including a delay or repeal of the individual mandate in the health-care law and energy and tax-code changes. Republicans probably will set their plans after an annual policy retreat in late January.
"This is not something to be trifled with," White House press secretary Jay Carney said yesterday about raising U.S. borrowing authority. "It is not something to be horse-traded over. It's the full faith and credit of the United States."
Much of the deficit reduction will come in later years, according to an analysis by the nonpartisan Congressional Budget Office. The plan would lower the deficit by $3.1 billion in 2014 and $3.4 billion in 2015 and exceed $20 billion a year in 2022 and 2023, the CBO said.
A big portion of the savings is tied to extending the cuts in Medicare provider payments into 2022 and 2023, rather than letting them expire in 2021 as under current law.
The accord spared doctors for three months from cuts in the Medicare reimbursement rates set to start in January. The measure doesn't extend emergency benefits for 1.3 million unemployed workers, an omission that frustrated Democrats, who say they plan to continue the fight in January.
To contact the reporters on this story: Kathleen Hunter in Washington at khunter9@bloomberg.net; Heidi Przybyla in Washington at hprzybyla@bloomberg.net
To contact the editor responsible for this story: Jodi Schneider at jschneider50@bloomberg.net