Turkey Reshuffles Police, Warns Prosecutors in Graft Case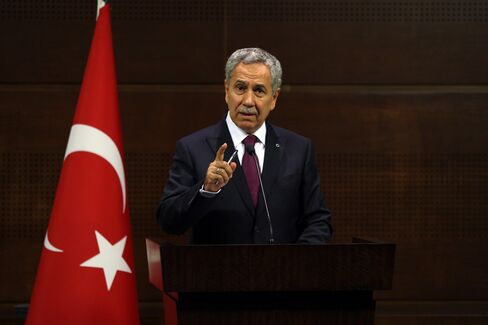 Turkish Prime Minister Recep Tayyip Erdogan dismissed dozens of police chiefs as he vowed to fight a corruption probe targeting his party, while the country's top business group warned the dispute may destabilize the economy.
Istanbul's top policeman, Huseyin Capkin, was among those dismissed yesterday, the state-run Anatolia news agency said. The firings came after police detained dozens of people, including the head of a state bank and the sons of three cabinet ministers, in an inquiry into graft.
"These developments create anxiety" and undermine the stability that Turkey's economy needs, Muharrem Yilmaz, head of the business group Tusiad, said at a conference in Izmir late yesterday, according to Anatolia.
The arrests have unsettled markets and sparked concerns of heightened tension between Erdogan and his former political ally, U.S.-based Islamic cleric Fethullah Gulen, who has a wide following in the police and judiciary. Some politicians from Erdogan's party signaled that Gulen was behind the operation, which he has denied.
Erdogan's government and the Gulen movement have been publicly sparring since November over plans to shut down private prep schools, a source of money and influence for Gulen's followers. Two lawmakers resigned from Erdogan's party this month over the decision.
Cabinet Changes
The probe undermines Erdogan's claims that he's cleared Turkey of graft. It comes as he's trying to shore up domestic support three months before local elections and eight months before presidential elections next year. The initials of Erdogan's Justice and Development, or AK, party mean "transparent" or "clear" in Turkish, and it swept to power in 2002 after a financial crisis revealed rampant corrupt lending at the nation's banks.
Turkey's 10-year bond yields surged to 10 percent yesterday and the benchmark stock index declined 3.2 percent, taking its three-day drop to 7.7 percent.
Turkiye Halk Bankasi AS led the losses, posting a three-day decline of 21 percent. Suleyman Aslan, the lender's chief executive officer, remained in police custody yesterday, according to Anatolia.
The sons of Interior Minister Muammer Guler, Economy Minister Zafer Caglayan and Environment Minister Erdogan Bayraktar were all arrested in the probe, according to Hurriyet newspaper.
Huseyin Celik, deputy head of Erdogan's party, told Haberturk television that no ministers have resigned. He said Erdogan was in any case planning changes to the cabinet.