BRICs Creator O'Neill Wowed by New Lula's Success: Mexico Credit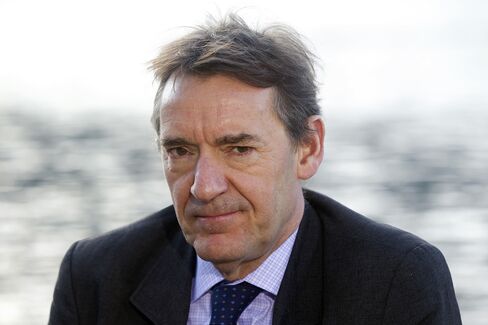 Jim O'Neill has been tracking economic reform initiatives in countries across the world during his 33-year career on Wall Street. Only a few of them, he said, rank higher than what Mexico achieved this year.
"I can't think of many other countries that have had a period of such deep reforms," said O'Neill, who coined the term BRICs while serving as a top Goldman Sachs Group Inc. economist in 2001, correctly predicting a surge in growth for Brazil, Russia, India and China. "Markets are only just really starting to give Mexico any credibility now that the energy reform is going through."
President Enrique Pena Nieto shepherded through at least 10 constitutional amendments in his first year in office, including measures to open Mexico's oil industry to private investment for the first time in 75 years. He is slated to enact as soon as this week the new drilling rules, which are aimed at luring oil majors from Exxon Mobil Corp. to Chevron Corp., after a majority of states ratified the changes adopted by the national congress.
O'Neill estimates the reforms will boost Mexico's long-term economic growth to 5 percent from the current 3 percent, helping trigger a bond rally that will top gains in other emerging markets next year. Barclays Plc predicts the reforms will spark investor demand for bonds in coming weeks, with yields on longer-term securities falling about 0.25 percentage point by year-end.
Outperforming Peers
Mexico was the only major Latin American economy whose local-currency bonds gained this year in dollar terms. They returned 1.6 percent, compared with an average 3.9 percent loss for emerging-market countries. Yields on Mexico's benchmark peso bonds have risen 0.98 percentage point this year to 6.4 percent as of 1:11 p.m. in New York, as speculation the Federal Reserve will curtail U.S. monetary stimulus eroded demand for developing-nation bonds.
Analysts forecast Mexico's peso will strengthen 3.4 percent against the U.S. dollar by the end of 2014, boosting dollar-based gains on local fixed-income assets. The projected gain is the biggest among 33 currencies tracked in a Bloomberg survey of analysts.
Brazil's Lula
Pena Nieto, 47, wasted little time pushing his agenda after taking office a year ago. On his second day on the job, he signed a pact with the two biggest opposition parties to pursue legislative proposals to spur economic growth.
The reform agenda has drawn praise from Pacific Investment Management Co.'s Bill Gross, BlackRock Inc. Chief Executive Officer Laurence D. Fink and former U.S. Treasury Secretary Lawrence Summers. O'Neill says the legislative victories put Pena Nieto in position to be the decade's most successful policy maker from the Group of 20 nations, a title he gave to Brazilian President Luiz Inacio Lula da Silva in the past decade.
Changes he implemented include forcing teachers to undergo annual evaluations and curbing the market power of dominant telecommunications companies such as billionaire Carlos Slim's America Movil SAB. He also signed measures to encourage banks to lend more and added taxes on dog food, soda pop and high-calorie snacks in an attempt to reduce the government's dependence on oil revenue.
'Laser-Beam-Focused'
"On political success, I'd give him an A," said James R. Jones, a former U.S. Congressman and CEO of the American Stock Exchange who served as ambassador to Mexico from 1993 to 1997, when the North American Free Trade Agreement was implemented. "Pena Nieto from what I hear is laser-beam-focused on what he wants to accomplish. His cabinet meetings are no-nonsense. He makes assignments, holds people responsible."
The president's office declined to comment about his first year in office.
Pena Nieto has retained enough political goodwill to keep pressing ahead, said Jan Dehn, the head of research at Ashmore Group Plc in London, which oversees $78.5 billion in emerging-market assets.
"This is just the beginning of good news for Mexico," Dehn said in a phone interview. "Compared to a lot of other EM countries, Mexico has already done all of the hard work, and there's much less uncertainty going forward."
Mexico's improved growth outlook will help the country's bonds outperform other emerging markets next year, Marco Oviedo, the chief Mexico economist for Barclays, said in a phone interview. The economy will grow 3.6 percent next year, after 1.35 percent growth this year, based on the average of economists' estimates in a Bloomberg survey.
'Unrealistic'
Risks remain that Mexico's energy legislation will take a long time to implement, and any gains in oil output may be delayed by a lack of pipelines and other infrastructure, according to Joe Kogan, the head of emerging-market strategy at Bank of Nova Scotia.
The government's goal of pumping 3 million barrels per day of oil by 2018 is "unrealistic," New York-based consulting firm Eurasia Group said in a Dec. 17 report. The country's output was about 2.5 million a day during the first half of December.
"Many years go by between when you start exploring for oil and when you produce oil," Kogan said in an e-mailed response to questions.
Informal Economy
O'Neill, 56, who left Goldman Sachs in April and now writes a column for Bloomberg View, Bloomberg LP's opinion website, said one of Mexico's biggest challenges is the high percentage of the population in undocumented jobs. About 60 percent of workers are off the books, according to the national statistics institute.
He said he visited Mexico City in October for a BBC radio program on the rise of "MINT" countries -- Mexico, Indonesia, Nigeria and Turkey -- he predicts are poised for faster growth.
As he walked through Tepito, an open-air market reported to be a forum for sales of pirated video games, fake Levi's jeans and stolen stereos, he asked a woman he met what she thought about Pena Nieto's economic reforms.
"She looked at me like I was coming from another planet," O'Neill said. "They need to persuade all these huge numbers in the informal economy that their lives could be better if they're in the formal economy."
Rising wages in China will make Mexico more competitive as a manufacturing center, helping bolster economic growth, O'Neill said.
If Pena Nieto's administration "really persuades investors they're serious, and they stick to the reform program, it's going to result in a lot of people wanting to invest in Mexico," he said.
Before it's here, it's on the Bloomberg Terminal.
LEARN MORE