On Anniversary of Dad's Death, Kim Jong Un Shows Who's Boss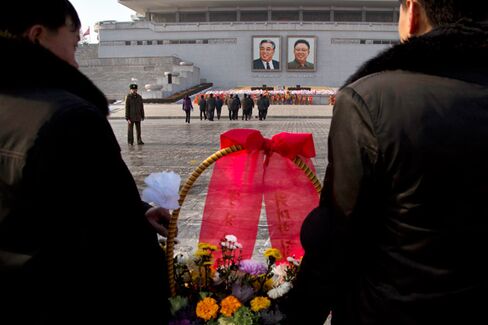 As North Koreans marked the second anniversary of Dear Leader Kim Jong Il's departure today, one thing was certain: The tens of thousands of attendees at the memorial service made sure to applaud his son and successor, Kim Jong Un—and to applaud vigorously, with unmistakable enthusiasm.
After all, one of the crimes committed by his purged uncle, Jang Song Thaek, before his execution last week was a supposed failure to clap appropriately when a party meeting gave bestowed a military title on his nephew. As the North Korean news agency reports, Jang "behaved so arrogantly and insolently as unwillingly standing up from his seat and half-heartedly clapping, touching off towering resentment of our service personnel and people."
The regime is using the anniversary to hammer home to audiences domestic and foreign that the Kim dynasty is secure, notwithstanding the threat posed by Jang. After all, like his grandfather and father before him, Kim Jong Un has the army on his side, the Korean Central News Agency insisted in a report published yesterday. North Korea's military "is the eternal army of Kim Il Sung, Kim Jong Il and Kim Jong Un and it will always remain the army of Kim Jong Un defending him unto death and upholding his leadership only."
It's easy to mock the North Korean system and its ridiculous rhetoric, but the execution of Jang on the eve of the anniversary is a reminder how much the Family Kim continues to rely on terrifying its own people in order to survive. North Korean purges are as old as the regime itself, but the swift execution of Jang is a departure.
"What is new this time, though, is that Kim Jong Un executed his uncle-in-law in such a brutal way, which reveals a certain amount of hubris and the temperament of the young leader, different from that of a seasoned, aged leader," writes Haksoon Paik, senior fellow and director of the Center for North Korean Studies at the Sejong Institute in South Korea. "It is clear by now that Kim Jong Un's newly-established image appears to have struck fear deep in the minds of North Koreans, invoking 'forced compliance' of the people and power elite alike," Paik wrote on the blog of 38 North, a program of the U.S.-Korea Institute at Johns Hopkins University's School of Advanced International Studies.
With trouble looming for the North Korean economy, Jang's death is likely to silence anyone thinking about challenging Kim's policies. Stephen Haggard, a North Korea expert at the University of California, San Diego looks at the indictment against Jang, which the regime has conveniently made public so all can see the crimes of the "Despicable Human Scum." It turns out Jang, according to this narrative, was planning on becoming North Korea's premier, fixing the country's economic problems, and then taking advantage of his new prestige to boot his nephew. "As an exercise in scapegoating the charges are masterful propaganda," writes Haggard. "Not only is the poor economic performance of the country the result of 'traitors' rather than the Kim Il Sung-Kim Jong Il-Kim Jong Un leadership. But complaining about the economy is now tantamount to being complicit in Jang's 'factionalism.'"
The outlook isn't totally grim, according to Paik, who argues that Kim Jong Un might feel confident enough to become someone whom the Obama administration and others can deal with in addressing such issues as North Korea's nuclear weapons: "What is not difficult to predict is that Kim Jong Un, now that he can stand on his own feet and desires to open his own 'glorious' era in the 21st century, will be more willing to cooperate with the United States, South Korea and international community for the resolution of key problems—economic, war and peace, and nuclear—that he has inherited from his predecessors."
Before it's here, it's on the Bloomberg Terminal.
LEARN MORE