Glaxo Overhauls Compensation for Drug Promoters Worldwide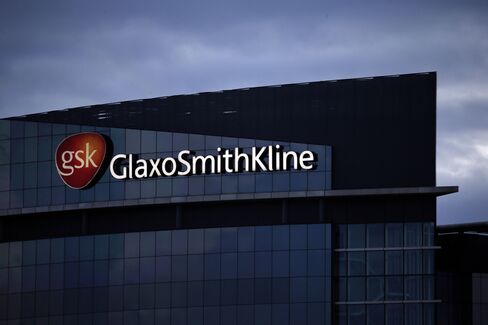 GlaxoSmithKline Plc will stop paying doctors to promote its medicines amid Chinese government accusations that the U.K. drugmaker bribed physicians, a year after the company admitted to marketing offenses in the U.S.
Glaxo plans to stop direct payments to doctors for giving speeches and attending medical meetings by early 2016, the London-based company said today in a statement. The company will also introduce a new compensation program for sales representatives who deal directly with those who prescribe medicines.
"In terms of gathering goodwill and repairing image, it's definitely a step in the right direction, and I would expect other large pharma companies to start looking at this policy as well," said Sudip Hazra, an analyst in Kepler Cheuvreux's environmental, social and governance research team in Paris. The policy is also "a good long-term measure to protect the company" given the risk of more corruption investigations in other emerging markets, Hazra said.
The overhaul in marketing practices comes as Glaxo seeks to repair its reputation amid a corruption investigation of Glaxo in China, begun in July. Authorities there allege that the drugmaker bribed hospitals, doctors and officials. Some senior executives appear to have acted outside Glaxo's processes and controls to defraud the company and the Chinese health-care system, Chief Executive Officer Andrew Witty said on July 24.
Challenging Practices
"It is imperative that we continue to actively challenge our business model at every level to ensure we are responding to the needs of patients and meeting the wider expectations of society," Witty said in today's statement.
The Chinese probe was largely responsible for Glaxo's sales of pharmaceuticals and vaccines in that market plunging 61 percent in the three months through September. Glaxo's troubles there came after the company paid a record $3 billion last year to resolve U.S. allegations that it improperly promoted medicines and failed to report safety information.
Glaxo revised its incentive compensation program for U.S. sales representatives, saying in 2011 it had done away with the link between sales goals and bonuses. Bonuses are now based on selling competency, customer evaluations and overall performance of the representative's business unit.
Patients First
Dubbed "Patient First," the new marketing strategy involves a team-based approach focused on educating and having discussions with doctors and pharmacists about the product, as opposed to individual sales representatives pushing prescriptions. A similar program will now be introduced in all countries Glaxo operates in by early 2015, the company said today.
"The experiment in the U.S. must have delivered benefits in terms of doctor interaction and credibility, and that's why they'd like to do this globally," said Mark Clark, an analyst at Deutsche Bank AG in London. "And with China in the background, it sends out a good message about being patient-centric rather than chasing the prescription at all costs."
The new incentive compensation system could place Glaxo at a competitive disadvantage, Kepler's Hazra said. Sales representatives may be put off by the approach, hindering Glaxo's recruiting ability, Clark said.
Glaxo will continue to pay doctors for conducting company-sponsored clinical research, advisory activities and market research, it said. The company already discloses speaking and consulting fees it pays doctors in countries including the U.S., Australia, the U.K. and Japan.
Before it's here, it's on the Bloomberg Terminal.
LEARN MORE