Ex-UBS Trader Hayes Pleads Not Guilty Over Libor Rigging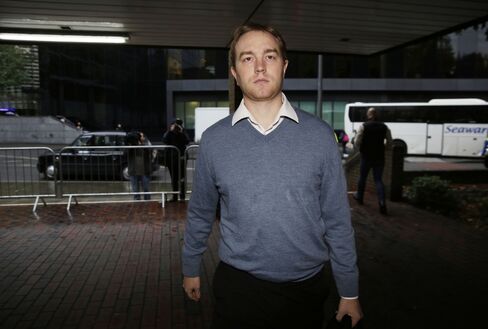 Dec. 17 (Bloomberg) -- Tom Hayes, a former trader at UBS AG and Citigroup Inc., pleaded not guilty to conspiring to manipulate Libor in the first prosecution stemming from a global investigation into rate rigging.
Two former RP Martin Holdings Ltd. brokers, Terry Farr and James Gilmour, also pleaded not guilty to related charges at a London court today. The trio, who are being prosecuted by the U.K. Serious Fraud Office, are the first to enter pleas in the case.
More than a half dozen finance firms, including Barclays Plc and UBS, have been fined a total of about $6 billion since June 2012 for manipulating the London interbank offered rate, or Libor. Authorities around the world are probing whether traders worked together to fix Libor, meant to reflect the interest rate at which banks lend to each other, to benefit their own trading positions.
Hayes, who was wearing a blue Ralph Lauren shirt, pleaded not guilty to eight counts of conspiracy to manipulate the yen Libor rate. Prosecutors say he conspired with employees from at least a half dozen banks and three inter-dealer brokers. Four charges date from 2006 to December 2009 when Hayes, 34, was at UBS, while the remaining counts span his time at Citigroup from December 2009 to September 2010.
Farr, 42, and Gilmour, 48, will both stand trial for one charge of conspiring with Hayes to defraud and others between August 2006 and December 2009. Farr will also fight a count in relation to yen Libor.
10-Week Trial
A 10-week trial for Hayes is scheduled to start in January 2015. Farr and Gilmour's case will follow nine months later.
While Justice Jeremy Cooke told Farr and Gilmour it was "with regret" that the issue would be "hanging over your head" for such a long time, the case had to be delayed in case more individuals were charged and added to the proceedings.
Hayes, a British national who worked in Tokyo, was arrested in the U.K. on Dec. 11 of last year, along with Farr and Gilmour. No one else has been accused of a crime in the U.K. probe.
Hayes has also been charged in the U.S., where the Justice Department is running a parallel criminal investigation into Libor rigging, along with former UBS trader Roger Darin and three former brokers at ICAP Plc.
Citigroup Dismissal
Hayes joined UBS in 2006 and worked at the Swiss lender until 2009, when he joined Citigroup. He was dismissed by Citigroup less than a year later for involvement in suspected rate rigging, a person with knowledge of the matter said last year.
Zurich-based UBS was fined about $1.5 billion by U.S., U.K. and Swiss regulators a year ago for manipulating benchmark interest rates, the largest fine against an individual bank in the case so far. It avoided a potential 2.5 billion-euro ($3.44 billion) fine from European Union regulators because it was one of the first banks to inform them of the cartel.
Citigroup was fined 70 million euros. Both UBS and Citigroup also previously faced penalties by Japanese regulators in the case.
The case has led to investigations of alleged abuses of other financial benchmarks by companies that play a central role in setting them. This year, regulators have opened probes into the setting of the daily ISDAfix swap rates, the WM/Reuters currency rates and precious metal benchmarks.
To contact the reporter on this story: Suzi Ring in London at sring5@bloomberg.net
To contact the editor responsible for this story: Anthony Aarons at aaarons@bloomberg.net