Grinchy Shoppers Can't Spoil TJX's Happily Discounted Holidays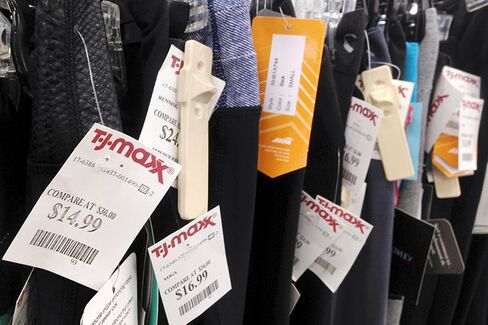 It's been a tough holiday season for U.S. retailers. They've had to blast out increasingly large promotions to incite consumers to buy, and even then traffic and transactions have been relatively anemic by some measures.
Much of that pain, however, translates to gain for TJX, the discount giant behind T.J. Maxx, Marshalls, and Home Goods. When consumers are feeling frugal, the company doesn't lose shoppers—it gets more. The recent slowdown in sales at department stores and other higher-end competitors means there's a glut of goods on the wholesale market, with apparel stores particularly heavy on inventory.
TJX buyers, as a result, are getting better, more fashionable stuff for less money than they usually do—be it cashmere sweaters or copper cooking pots. "The marketplace is flooded with outstanding products," Chief Executive Officer Carol Meyrowitz gushed on a recent conference call.
Every retailer is an "off-price" company this holiday. Even J.Crew, a fashion darling of late, has a standing 30 percent off from now until Dec. 24. The problem is most companies make or buy their inventory at regular price levels, while off-price retailers are bargain shoppers.
The beauty of the TJX business model lies in its sourcing. The company has fine-tuned its buying machine to source products from 16,000 different vendors and zip them to the appropriate shelves. It's also adept at customizing merchandise by region or even neighborhood. The TJX stores in northern Manhattan, for example, are typically well-stocked with dressy hats because a lot of people in the area wear hats to church every week. Ross Stores and Burlington Stores play a similar game, although their operations are dwarfed by TJX.
Mark Ellwood, author of the recently published Bargain Fever: How to Shop in a Discounted World, describes TJX as extremely well-run. "We're living in this era of oversupply," he said. "If you're the person who will Hoover up the excess, you are everyone's favorite vendor—you're the retail safety net. What's more, you, as a shopper, feel smarter buying there."
Meanwhile, off-price appears to be moving upmarket. A recent study by Cowen found some decidedly chichi brands on the haphazard racks, including Michael Kors, Kate Spade, Coach, and Tumi (a company that sells a $5,000 traveling martini bar, mind you). No wonder almost 30 percent of women who make more than $100,000 a year shop at TJX, according to Cowen.
TJX isn't giving away the store. In the most recent quarter, its net profit margin was almost 9 percent, slightly higher than Gap's and far better than the 5.3 percent return Williams-Sonoma booked.
The discounter doesn't even care about e-commerce; it only launched a Web store for T.J. Maxx in September. Making shopping feel like a "treasure hunt" is part of its allure, according to Cowen analysts. The Web, in short, has yet to replicate the rush of pawing through a pile of unfolded sweaters to find a decent garment at a silly price. TJX is pouring money into brick-and-mortar, crowing about plans to build up its footprint to 5,100 stores, 60 percent more than now.
The discount dynamic means the company is heading for a gleeful yearend. Here's where analysts ballpark its revenue in the current quarter, relative to its rivals' in the holiday sales game.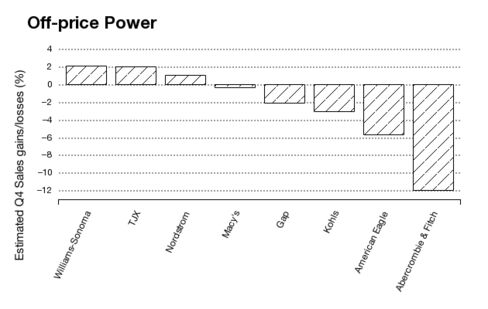 Not surprisingly, Meyrowitz isn't sweating an "extremely promotional" retail environment this Christmas. "I know this is going to sound a little hokey, but the greatest threat is us being complacent," she told analysts recently. "I sleep very well at night."
Before it's here, it's on the Bloomberg Terminal.
LEARN MORE