Ukraine's $15 Billion Moscow Gambit Winning Over Bond Investors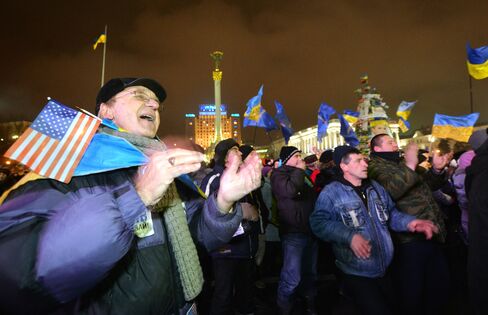 Ukraine's return to Moscow for emergency loan talks is earning bondholders' backing.
The move, while risking riling up anti-government protesters angered by Ukraine's turn away from the European Union, could help the country shore up plunging foreign reserves and meet almost $17 billion of debt payments due in the next two years. The yield on the government's dollar bonds due in April 2023 dropped for a sixth day, sliding 0.15 percentage point to 9.78 percent at 3:48 p.m. in Kiev, the lowest level this month.
An agreement to boost cooperation with Russia would be signed "soon" if not today, President Viktor Yanukovych said at the start of talks with Russian counterpart Vladimir Putin in Moscow. Such a deal may provide a more immediate cash fix than a trade accord with the EU, according to Dmitri Barinov, a fund manager at Union Investment Privatfonds.
"A deal with Russia is more of a cure," Barinov, who helps oversee $2.5 billion of debt including Ukraine's dollar notes, said by phone from Frankfurt yesterday. While an EU deal would boost political ties with the West, it would not "help at all to solve the current problems," he said.
Ukraine is in talks over loans worth as much as $15 billion and a reduction in the price the former Soviet republic pays for natural gas, two people familiar with the matter said yesterday.
'Strategic Partner'
"Ukraine is our strategic partner and ally in every sense of the word," Putin said at a news conference with Yanukovych in the Kremlin. The Ukrainian leader said the planned agreements "will allow us to improve significantly in different areas." They are expected to gives statements to the media later today.
Ukraine needs foreign aid as central bank efforts to prop up the hryvnia deplete foreign reserves. The government quit bailout talks with the International Monetary Fund in April, rejecting the conditions the lender imposed.
"Yanukovych and his government are in a no-win situation, if they achieve a success in negotiations in Russia, this will stoke discontent at home," Tatiana Orlova, an economist at Royal Bank of Scotland Group Plc., said by e-mail today.
The cost to insure Ukraine's debt against non-payment with credit-default swaps dropped three basis points, or 0.03 percentage point, to 1,038 today, the lowest level since Nov. 29, according to prices compiled by data provider CMA. That ranks the sovereign as the most costly to insure after Argentina and Venezuela, according to CDS prices tracked by Bloomberg.
European Embrace
Demonstrators frustrated by Ukraine's turn away from the EU, whose policies have helped other post-communist countries embrace democracy and foster economic development, have occupied parts of Kiev since Yanukovych chose on Nov. 21 closer ties with Russia over a trade agreement with the 28-member bloc.
Moody's Investors Service said on Dec. 4 that Ukrainians may rush to exchange their hryvnia savings into other currencies if the perception of their country's stability is undermined. The currency was steady at 8.2945 per dollar, after touching a four-year low on Dec. 13. Forward contracts show the hryvnia weakening to 8.925 against the dollar in three months.
"The more the government looks to Moscow for financial aid, the more dangerous the political situation becomes and the greater the scope for a full-blown financial crisis," Nicholas Spiro, managing director of Spiro Sovereign Strategy in London, a consultant for investors, said by e-mail yesterday. "Ukraine faces the worst of both worlds right now -- over-dependence on Russia and insufficient support from the EU."
Retaining Influence
The EU remains ready to sign the deal with Ukraine, which is demanded by protesters along with early elections, the bloc's foreign-policy chief Catherine Ashton said yesterday.
An agreement with Russia doesn't block Ukraine from signing a subsequent accord with the EU, Lutz Roehmeyer, a money manager at Landesbank Berlin Investment, said by e-mail yesterday. "There is no conditionality not to join the EU," he said.
Putin is seeking to retain influence over Ukraine, the most populous former Soviet republic after Russia. Yanukovych walked away from the EU deal, which would boost trade and move Ukraine closer to visa-free travel, after Russia threatened sanctions.
Obtaining assistance from Moscow may enrage protesters, who will see the move as a step toward Ukraine's membership in a free-trade bloc with Russia, Kazakhstan and Belarus, Timothy Ash, a London-based strategist for emerging markets at Standard Bank Group Ltd., wrote in a report to clients yesterday.
Drip Feed
"The aim will be to keep Ukraine on the edge, and dependent on Russian credits, to continue to pressure Ukraine to eventually sign the customs union," Ash said.
Ukraine's reserves fell 9 percent in November to a seven-year low of $18.8 billion, eroding the central bank's ability to continue to buy the hryvnia in the foreign-exchange market. Reserves have declined 51 percent over the past two and a half years, state data show. The yield on Ukraine's dollar notes due in June 2014 dropped 12 basis points to 15.07 percent today.
The Black Sea nation of 45 million depends on energy from its larger neighbor and is a key transit land for pipelines taking Russian gas to EU members. Russia is likely to cut the gas price for Ukraine by at least 25 percent, Viktor Medvedchuk, a Ukrainian ally of Putin, said in an interview last week.
"Ukraine has become adept at playing Russia against the West," Richard Segal, London-based chief of credit strategy at Jefferies International, said by e-mail yesterday. While "the EU overplayed its hand by not assuming Russia would react," Ukraine "will be dependent on Russia" for as long as the loan lasts, should the sides reach a deal, he said.
Before it's here, it's on the Bloomberg Terminal.
LEARN MORE