Another Deadly Clash Between Muslim Uighurs and Chinese Police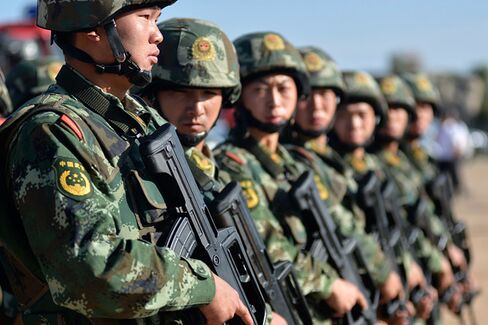 President Xi Jinping and his security team might need to take a break from bellicose rhetoric aimed at Japan and the Philippines. Even as the Chinese government throws its weight around in the East China and South China Seas, where the country is squabbling with neighbors over uninhabited rocks, the regime is facing a growing challenge at home from restive border regions far from Beijing.
The latest example came today in a deadly confrontation in Xinjiang, the vast "autonomous region" in western China that is home to a large population of Uighurs, a predominantly Muslim minority more closely related to the Turkish peoples of Central Asia than to the Han Chinese of China's main provinces. Sixteen people died, including two police and 14 rioters, after locals attacked the police in the Kashgar region of Xinjiang. A spokeswoman for the Chinese Foreign Ministry said they "attacked Chinese public security forces with explosive devices."
Uighurs who want independence for what they call East Turkestan probably know time and demographics are not on their side. Just as in Tibet, Han Chinese have moved in and created new facts on the ground. Of Xinjiang's population of about 22 million, Uighurs are now a minority.
Today's deaths come just a month after a similar incident in Xinjiang that killed 11 people, including two Chinese police officers. Before that, the Chinese government blamed Uighur militants for an October incident that left five people dead after an SUV crashed into a crowd in Tiananmen Square. In June, 35 people died in another confrontation between Uighurs and Chinese police. In April, 21 people died.
China's official media has blamed jihadi terrorists for the earlier Xinjiang attacks. Rebiya Kadeer, president of the Munich-based World Uyghur Congress last week issued a statement for International Human Rights Day decrying what she called "an unrelenting escalation of human rights violations in 2013, committed with impunity by the very government who agreed to protect them."
Before it's here, it's on the Bloomberg Terminal.
LEARN MORE