AirAsia X Plans to Sign 'Major' Airbus Plane Order This Week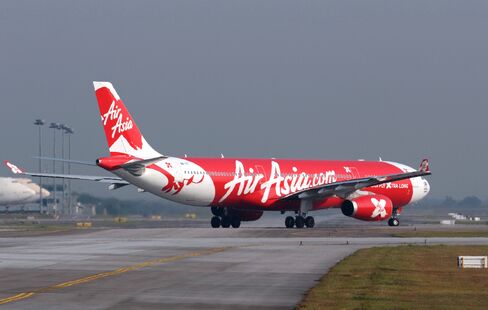 AirAsia X Bhd., the long-haul arm of Asia's largest low-fare carrier, said it will sign a "major" Airbus SAS plane order in Paris this week to expand its fleet amid rising travel demand.
An announcement is tentatively scheduled for Dec. 18, the Kuala Lumpur-based carrier said in an e-mailed invitation. AirAsia X Chief Financial Officer Yvonne Abdullah said last month that it may order more Airbus A330s as its current order of 25 of these planes isn't enough.
"This is a very significant investment," Azran Osman-Rani, AirAsia X chief executive officer, said in a phone interview today, declining to give details of the order. "It shows we are on a very strong growth path."
The carrier, which listed in Kuala Lumpur in July, is planning to replicate AirAsia Bhd.'s business model by opening secondary hubs in other Asian cities. Budget airlines in Southeast Asia have ordered at least 1,000 new aircraft in the past five years as economic expansion across the region enables more people to start flying in countries such as the Philippines and Vietnam.
AirAsia X plans to have a fleet of 43 planes by 2018, up from 16, Abdullah said last month. Sean Lee, an Airbus spokesman in Singapore, declined to comment today.
Shares of the carrier fell 1 percent to close at 1.01 ringgit, the lowest since listing. AirAsia dropped 1.3 percent to 2.34 ringgit.
AirAsia X's affiliate won rights to use Bangkok as a base in October and is also seeking to operate out of Jakarta. In its home base, a new budget terminal is scheduled to open outside of Kuala Lumpur in May, allowing the carrier and AirAsia to accelerate growth.
Airbus said in September that its A330 twin-aisle jet could remain in production for another decade as low-cost airlines led by Ryanair Holdings Plc seek cut-price planes for the introduction of long-haul services.