Libya's Oil Sales Constrained as Eastern Ports Remain Shut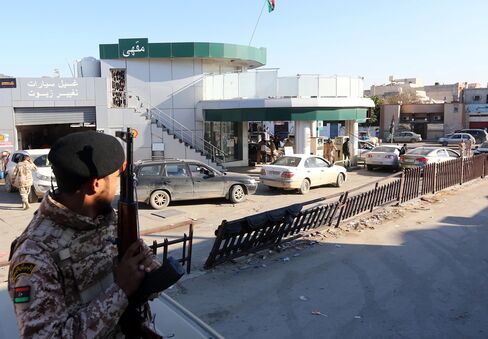 A Libyan rebel leader refused to hand over control of three oil ports to the government, spurring the biggest gain in benchmark crude prices in almost two weeks as the North African nation's exports stayed constrained.
Ibrahim Al Jedran told a news conference yesterday that the oil export terminals of Es Sider, Ras Lanuf and Zueitina, closed since the end of July, will remain shut after the authorities rejected his conditions, including a demand to share oil revenue with his self-proclaimed government in the east.
"We failed in making our conditions implemented, so we confirm that we won't open the oil ports," he said, speaking in the eastern city of Ajdabiya. "We now officially mandate the Executive Bureau of the Cyrenaica Region to start what it has been tasked with and preserve this wealth," he said, signaling that the eastern region known as Cyrenaica may sell oil without the central government's approval.
Brent crude futures, a benchmark for more than half of the world's oil, rose as much as $1.11, or 1 percent, and were at $109.94 at 10:09 a.m. London time. The gain was the biggest since Dec. 3. The price fell 2.5 percent last week amid expectations that the terminals, with a combined export capacity of 650,000 to 900,000 barrels a day, could reopen.
Nine Terminals
Crude output in Libya, which holds Africa's largest proven oil reserves, fell to 210,000 barrels a day last month, the lowest level since the 2011 rebellion and NATO bombing campaign that ended Muammar Qaddafi's 42-year rule. The country was producing an average of 1.55 million barrels a day in 2010, according to data compiled by Bloomberg, and had plans to raise production to 2 million barrels a day through increased exploration.
Libya is currently exporting about 110,000 barrels a day from five terminals under government control. A ninth terminal, Hariga in the east, is under partial government control.
A tribal mediator who is trying to end the oil ports stalemate said the government has agreed to Al Jedran's conditions to set up a committee to monitor oil sales and review past contracts, while rejecting the third demand for revenue-sharing because Libya isn't a federal state.
Bearing 'Responsibility'
"Two-thirds of the conditions have been met and the ports should have been reopened," said Saleh Al Etweish, head of the Al Magharba tribe to which Al Jedran belongs, by telephone from Benghazi, the largest city in eastern Libya. Al Jedran, a former regional commander of the Petroleum Facilities Guard, "now must bear the responsibility of his action," he said.
Libyan Prime Minister Ali Zaidan said his government formed several committees to monitor the oil sales and "achieve better accuracy," according to a published transcript of comments from Dec. 13 on the government's Facebook page.
"I expect both sides to continue talking about the three conditions posed by Jedran, and eventually they will manage to reach a compromise, most likely by the end of the first quarter of 2014," Riccardo Fabiani, a London-based analyst at Eurasia Group, said in an e-mail. "These negotiations are likely to prove challenging, as neither side wants to appear the loser, and the issue of oil revenue sharing is likely to be the most controversial point."
Tanker Tracking
The conditions set by Al Jedran had already decreased the possibility exports from the east of the country would resume, according to Richard Mallinson, an analyst at Energy Aspects Ltd. in London. No tankers went to the three ports in the past week and no oil carriers are signaling for them either, according to shipping data compiled by Bloomberg. Three that went to Libya in the past week sailed to terminals in the west of the country, the data show.
Marathon Oil Corp., ConocoPhillips, Hess Corp, OMV AG and Occidental Petroleum Corp. are among the companies that would have benefited from a reopening of the eastern terminals, which serve as export routes for the crude their Libyan units produce.
The central government is struggling to assert its authority against armed militias, while strikes and protests have forced sporadic halts at many oil facilities. Oil Minister Abdulbari Al-Arusi last week said the drop in production has cost the country more than $7 billion.