Deutsche Bank to Nomura See Rajan Rate Rise on CPI: India Credit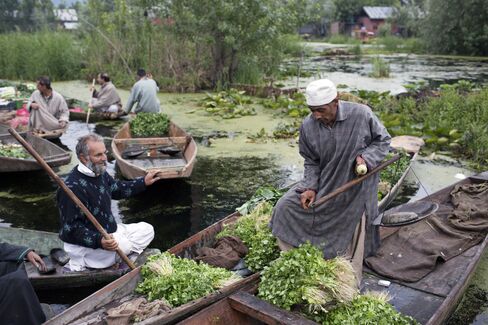 Dec. 16 (Bloomberg) -- Indian consumer-price inflation that shocked economists by topping 11 percent prompted Deutsche Bank AG and Nomura Holdings Inc. to predict the central bank will raise borrowing costs this week.
Reserve Bank of India Governor Raghuram Rajan will boost the repurchase rate on Dec. 18 for the third time since mid-September, raising it by 25 basis points to 8 percent, Germany's biggest bank forecasts. The lender dropped an earlier call for no change after a Dec. 12 government report showed CPI gains quickened in November to 11.24 percent, the most since the series started in January 2012.
The rupee completed its worst week in more than a month and bond yields surged after Rajan told reporters in Kolkata that he is "very uncomfortable" with the level of inflation. The cost to fix three-month borrowing costs using interest-rate swaps rose 11 basis points from the lowest since July to 8.31 percent on Dec. 13, the biggest jump in a month. A similar rate in China is at 4.85 percent.
"The rupee is a big sell," Dariusz Kowalczyk, a strategist at Credit Agricole CIB in Hong Kong, said in an interview on Dec. 13. "Rajan now has to hike rates next week, hurting the growth outlook, or if he doesn't he will lose credibility. Both of the outcomes would be rupee-negative."
Rate Survey
The RBI will lift the repo rate, which was raised by 25 basis points in both September and October, to 8 percent on Dec. 18, according to 11 of 19 economists in a Bloomberg survey. The remaining eight, which include analysts from Barclays Plc and Royal Bank of Scotland Group Plc, expect no change. Nomura and DBS Group Holdings Ltd. brought forward calls for a 25 basis point rise to this week after the CPI report.
The wholesale-price index climbed 7.52 percent in November from a year earlier, the most since September 2012, according to government figures released today. Price pressures are rising even as the economy weakens. Factory output shrank 1.8 percent in October from a year earlier, according to a report on the same day as the CPI release.
Weakness in the rupee and bottlenecks in the supply of food to energy have fanned living costs even as economic growth moderates. High prices of vegetables, fruits and milk are keeping inflation elevated, Finance Minister Palaniappan Chidambaram has said. The rupee fell about 1.1 percent last week to 62.1250 per dollar, according to data compiled by Bloomberg. It strengthened 0.3 percent to 61.97 today.
'Significant Shock'
"While the October industrial production was in line with expectations, the significant shock was from retail inflation," analysts at Kotak Mahindra Bank Ltd., including Mumbai-based Indranil Pan, wrote in a research note on Dec. 13. "The RBI should remain concerned on the overall inflation expectations in the economy. The hawkish stance of the RBI is warranted."
The acceleration in prices even after the last two rate additions raises the possibility of a more aggressive tightening move by the central bank, according to Mumbai-based credit assessor CARE Ratings.
"A 50 basis point hike wouldn't come as a surprise," economists at the ratings company including Mumbai-based Madan Sabnavis wrote in a research note on Dec. 13.
Benchmark 10-year government bonds fell after last week's consumer-price report, with the yield on the 8.83 percent notes due 2023 climbing six basis points, or 0.06 percentage point, to 8.91 percent on Dec. 13, according to the central bank's trading system. The rate slipped six basis points to 8.85 percent today, capping this month's increase at 11 basis points.
Fund Outflows
Domestic investors pulled money from fixed-income funds in five of the last six months amid rising inflation concerns, data from the Association of Mutual Funds in India show. Money-market funds attracted 1.2 trillion rupees ($19 billion) over October and November, reflecting demand for less risky assets.
Bond risk in India has risen this year. Credit-default swaps insuring the bonds of State Bank of India, a proxy for the sovereign, against non-payment for five years have climbed to 286 basis points from 226 at the end of 2012, according to data provider CMA.
"CPI inflation is still very sticky and will broadly remain above 9 percent," Sonal Varma, a Mumbai-based economist at Nomura, said in a phone interview on Dec. 13. "In that scenario, the bias is for rates to be higher for longer."
To contact the reporter on this story: Shikhar Balwani in Mumbai at sbalwani@bloomberg.net
To contact the editors responsible for this story: James Regan at jregan19@bloomberg.net; Sandy Hendry at shendry@bloomberg.net