Snow Falls in New York as Storm Zips Through Northeast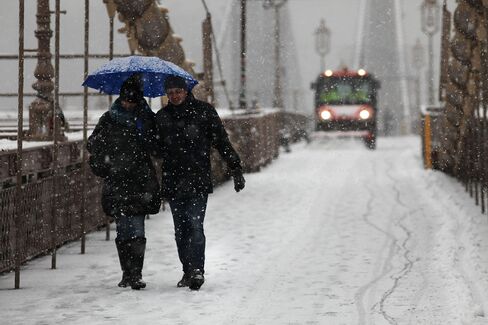 Snow began falling in New York and may change to sleet and rain tonight, as a quick-moving storm makes its way from the Midwest through the U.S. Northeast and heads for New England.
New York may see as many as 5 inches (17 centimeters) of snow, especially in the northwestern part of the city and Long Island, before it turns to rain, which will hold down any accumulation, according to an advisory from the National Weather Service office in Upton, New York. Areas of northern New Jersey and the lower Hudson Valley may get 8 inches. Putnam and Orange counties in New York may receive 10 inches.
"Before it ends late Saturday night, it should change over to all rain," Joe Pollina, a National Weather Service meteorologist, said by telephone yesterday.
About 500 flights were canceled into and out of the three New York-area airports, according to FlightAware, a Houston-based airline tracking service.
Winter storm warnings, meaning severe conditions are imminent, were in place in parts of nine states from Indiana to Maine, according to the weather service. Winter weather advisories, which included warnings of icy roads and freezing rain, stretched from eastern Illinois to eastern West Virginia, the Maryland Panhandle and parts of northwestern Virginia.
Boston Snow
The bulk of the storm was expected to miss Washington and Baltimore, said Tom Kines, a meteorologist with AccuWeather Inc. in State College, Pennsylvania. An area from central Pennsylvania through upstate New York and into New England will get the heaviest snow, Kines said.
"The farther north you go, the better the snow is going to be," Kines said by telephone. "It will be great for the ski areas. It should be a dry and powdery snow."
Boston will probably get 3 inches to 6 inches of snow, said Dan Pydynowski, a meteorologist with AccuWeather. Accumulations in the city will be held down because the precipitation may change over to rain or a mix of freezing rain and sleet early tomorrow.
Areas north and west of Boston may get 12 inches, according to the weather service. A coastal flood advisory has been issued for the east coast of Massachusetts including Cape Cod. Waves may rise to 10 feet with a 2-foot storm surge washing over roads and flooding basements, according to the weather service.
The heaviest snow will fall in Boston starting this evening, Pydynowski said.
Farther west, Cleveland and western New York may get 7 inches as the snowstorm passes through, according to the weather service. Chicago may get as many as 6 inches of snow before precipitation stops this afternoon.
Before it's here, it's on the Bloomberg Terminal.
LEARN MORE