U.K. Housing Market Seen at Risk of Overheating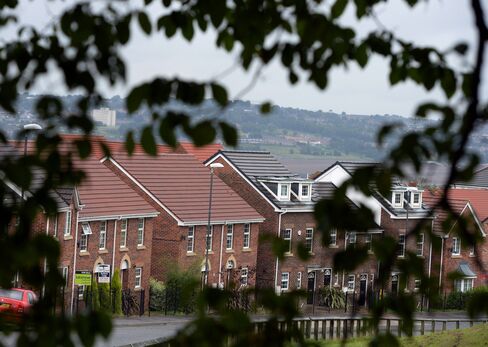 Dec. 13 (Bloomberg) -- Bank of England Governor Mark Carney may be struggling to prevent Britain's housing market from reaching what he calls "warp speed."
About two-thirds of 27 economists in a Bloomberg News survey said property in the U.K. is at risk of overheating. The survey, published today, also showed that the outlook for the economy has improved, with forecasts for growth this quarter raised to 0.7 percent from 0.6 percent last month.
Carney has already taken a first tilt at the market, ending some incentives on mortgage lending in a program the central bank started last year to boost credit. House prices rose to a record in November, Acadametrics said today, while home-loan approvals and sales are increasing, bolstered by a strengthening economy, government incentives and record-low interest rates.
"Clearly there is a risk of overheating," said Brian Hilliard, an economist at Societe Generale SA in London and a former BOE official. "It's puzzling to see quite how strong the market has been since the summer. There is an emerging problem, to some extent, and it's right that the method of attacking it has been to use the macro prudential measures."
Carney has justified his decision to revamp the Funding for Lending Scheme by saying that taking small steps now will curtail the need for bigger measures later on.
'Warp Speed'
"There's a history of things shifting in the U.K. and the housing market moving from stall speed to warp speed and underwriting standards slipping," he said in New York on Dec. 9. Developments "merit vigilance but not panic," he said.
BOE Chief Economist Spencer Dale said today the BOE is "fully aware" of the risks and has the tools to combat them.
"Anyone with more than a passing interest in British economic history is aware that the U.K. housing market has a sort of microwave-type quality to it, with a tendency to turn from lukewarm to scalding hot in a matter of a few economic seconds," he said in a speech.
Acadametrics and LSL Property Services said today house prices rose 0.6 percent last month as transactions exceeded 77,000, the most for a November since 2007.
While the market is warming up, "now wouldn't be the time to start slamming on the brakes," Andrew Haldane, the BOE's executive director for financial stability, said today. The BOE's approach is to "relax our foot on the accelerator."
Vigilant
Chancellor of the Exchequer George Osborne yesterday denied there is a housing bubble and said he would listen to any concerns voiced by the BOE.
"Of course we have to be vigilant, and we have a system for that, but there is not that issue today," Osborne told Parliament's Treasury Committee in London.
The U.K.'s Office for Budget Responsibility, which oversees forecasting for the Treasury, raised its growth projections this month. The Bloomberg survey showed that economists have also become more optimistic. The economy will expand 2.4 percent both next year and in 2015, according to the median estimate in the poll. That's up from a prediction last month of 2.3 percent and 2.2 percent.
While a majority of respondents said the economy has not yet reached what Carney has termed "escape velocity," the outlook is shifting. From 71 percent in November saying the recovery hasn't reached that level, that's now down to 60 percent.
Rate Pledge
The improving recovery is helping to push unemployment closer to 7 percent, the level at which Carney says officials will review their policy stance. He has said he won't raise the benchmark interest rate at least until then. Of 29 economists, 20 see the threshold being reached by the second quarter of 2015, with 10 forecasting by the end of next year. The jobless rate is currently 7.6 percent.
The rate pledge is part of Carney's forward guidance policy, which he introduced a month after joining the BOE in July. When asked if the plan has been successful, 59 percent of 29 economists agreed with that assessment.
Guidance is subject to three clauses linked to inflation and financial stability. MPC member Martin Weale objected to guidance when it was introduced because he wanted a tougher inflation condition, though he said this week a recent cooling of inflation has eased his concerns.
In the Bloomberg survey, economists see inflation slowing to an average 2.2 percent next year from 2.6 percent in 2013. The BOE has a target of 2 percent and consumer-price growth has been above that level every month for the past four years.
To contact the reporters on this story: Joshua Robinson in London at jrobinson37@bloomberg.net; Emma Charlton in London at echarlton1@bloomberg.net
To contact the editors responsible for this story: Craig Stirling at cstirling1@bloomberg.net; Joshua Robinson at jrobinson37@bloomberg.net