South Africa Plans Final Memorial for Mandela at Qunu Burial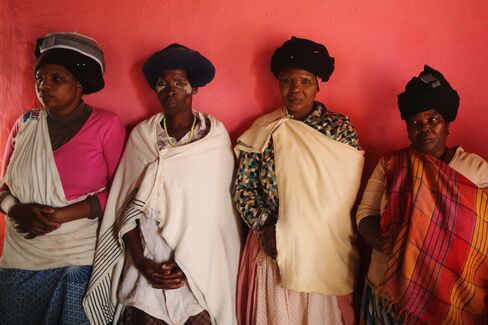 The body of former South African President Nelson Mandela arrived in Qunu, his rural home village in the Eastern Cape province, for a burial that will end 10 days of memorial events since his death.
Mandela's remains were flown in a military aircraft from Waterkloof Air Force base in Pretoria earlier today to the airport in Mthatha, about 23 miles from Qunu. The funeral tomorrow will be attended by about 5,000 people, including dignitaries such as the U.K.'s Prince Charles and Reverend Jesse Jackson, a U.S. civil rights activist.
Memorial events this week drew thousands of South Africans and world leaders including U.S. President Barack Obama, who paid tribute to Mandela following his death on Dec. 5 at the age of 95. Jailed for 27 years for fighting the racial segregationist policies of apartheid, Mandela was hailed for promoting reconciliation between blacks and whites when he was released in 1990. He won the Nobel Peace Prize in 1993 for negotiating a peaceful end to white minority rule and became the nation's first black president a year later.
"May God give us another Mandela, but I think it is going to be hard," Zwelonke Sigcawu, king of the amaXhosa clan, said through an interpreter yesterday in Qunu after visiting the Mandela homestead to pay his respects to the family. "We thank the elders that raised him and those who supported him for making him the man he was."
Rural Village
Mandela's body, which was lying in state at the Union Buildings in Pretoria for the past three days, was transported in a hearse to Qunu, past thousands of supporters who lined the rural route. People waved South African flags and raised their fists, as Mandela did when we was released from prison in 1990.
Nthabeleng Ngeva, a 33-year-old Mthatha resident, waited more than four hours to see the procession and jumped up and down as it passed.
"I am relieved we finally saw Madiba," she said. "I take comfort in knowing we saw him go to his final resting place."
As the crowds met the funeral procession in Eastern Cape, Archbishop Emeritus Desmond Tutu said he has canceled plans to attend the event after "receiving no indication that his name was on a guest or accreditation list," according to a statement published on the Facebook page of the Desmond and Leah Tutu Legacy Foundation.
'Gatecrash' Funeral
"Much as I would have loved to attend the service to say a final farewell to someone I loved and treasured, it would have been disrespectful to Tata to gatecrash what was billed as a private family funeral," Tutu said in the statement, using a Xhosa word for father. "Had I or my office been informed that I would be welcome there is no way on earth that I would have missed it."
Earlier today, Mandela's remains arrived at the Waterkloof base shortly before 7 a.m. for a memorial service by the ruling African National Congress, the party that Mandela led. Among those greeting the body at the air base were Andrew Mlangeni and Ahmed Kathrada, who were imprisoned with Mandela on Robben Island.
President Jacob Zuma, Mandela's wife Graca Machel and former wife Winnie Madikizela-Mandela, and family members of the late president were also at the memorial. The casket was draped in an ANC flag while members of the party and its alliance partners, the Congress of South African Trade Unions and the South African Communist Party, delivered eulogies.
"Since the day our leader departed, we have in a very special way remembered him, not only us, but the whole world," Zuma said.
Royal Family
The former president, widely known by his clan name Madiba, spent most of his childhood in the rural village and built a home there after being released from prison. The royal family of the abaThembu, Mandela's tribal group, will perform a traditional ceremony today before the coffin is moved to the marquee tent at Mandela's homestead, where the funeral service will take place, according to the government.
Mtakwabo Phako, an 18-year-old student, sold South African flags with Mandela's image for 100 rand ($9.72) as he waited for the procession to pass by on its way to Qunu.
"I came so I can be comforted in the loss I feel. I don't think much will change after Tata Madiba is buried, because if things change it will mean as his people we learned nothing from his values and sacrifices," Phako said. "His life will have been in vain."
Airport Closed
The South African National Defense Force deployed 11,894 soldiers to maintain law and order and assist with the state funeral, according to the government. A military guard of honor will accompany Mandela's hearse from Mthatha airport to the funeral.
The airport has been closed to scheduled flights and reserved for charter planes bringing dignitaries and mourners. The main highway between the city and East London, which runs past the Mandela homestead, has been closed to traffic.
The funeral will be closed to the public and the media though parts of it will be televised by the South African Broadcasting Corp. Journalists covering the event are confined to a temporary media center at the Nelson Mandela Museum, overlooking the homestead about a mile away.