Merkel's Suspense to End as SPD Gives Coalition Vote Result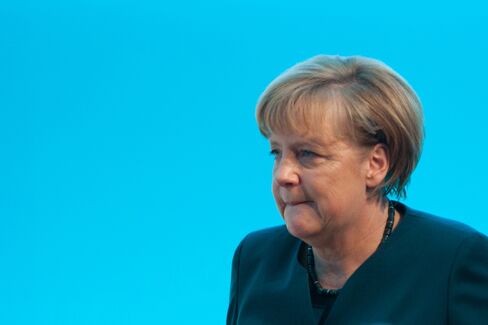 Chancellor Angela Merkel is set to find out whether Germany's Social Democrats will shelve concerns over allying with her, clearing the way to her third term.
Almost 12 weeks after Merkel defeated the SPD in Sept. 22 elections, the party will today announce the result of its members' vote on the coalition accord worked out with her Christian Democratic bloc. Approval would allow her to extend her role at the head of Europe's biggest economy for the next four years, while rejection could trigger new elections.
Merkel, 59, Germany's first woman chancellor and the first from the formerly Communist east, offered concessions including a national minimum wage to persuade the SPD to be her junior partner for the second time since 2005. Sigmar Gabriel, the party's chairman and the possible next vice-chancellor, will present the result of the vote at about 2 p.m. in Berlin after the ballot counting went quicker than planned, the SPD said.
"Our base case is that the vote will approve the coalition agreement," London-based Citigroup Inc. economists Guillaume Menuet, Giada Giani and Ebrahim Rahbari said in a note yesterday. If the SPD balks, Merkel will probably turn to the Greens to try and build a government, they said, "but political uncertainty would be prolonged in that case, and new elections would become a distinct possibility."
Postal Vote
The fate of Merkel's chosen coalition lies with the SPD's 475,000 members, who had until midnight Dec. 12 to vote. The postal ballots are to be counted by about 400 volunteers at a warehouse in Berlin's Kreuzberg neighborhood. No polling has been done, and some members have said the SPD should remain in opposition to build toward the next election in 2017.
If the ballot passes, Merkel has said her cabinet will be named tomorrow, with the coalition agreement to be signed on Dec. 16 and Merkel's formal election as chancellor and swearing-in the next day.
Wolfgang Schaeuble will again be finance minister, while responsibility for Germany's energy overhaul -- the biggest shift to renewable power of any developed country -- will come under the Economy Ministry, which is to go to the SPD, party officials said this week.
Gabriel will head the new Economy and Energy Ministry, while Peter Altmaier, a Merkel confidant who handled energy policy in his role as environment minister, will move to become Merkel's chief of staff, Der Spiegel reported, without saying where it got the information. The SPD will also take the labor, environment, justice, families and foreign affairs portfolios, it said.
Green Approach
Merkel's election victory was the biggest since German reunification in 1990. After exploring a tie-up with the environmentalist Greens, she turned to the SPD, a 150-year-old organization rooted in the industrial workers' movement, to rerun her first-term alliance of Germany's two biggest parties.
"We're a grand coalition to master Germany's grand challenges," Merkel said as she presented the coalition deal on Nov. 27, after five weeks of negotiations. Those tasks are "solid finances, secure prosperity and social security."
While allowing for a minimum wage that Merkel campaigned against and earlier retirement for some workers, the pact upholds Merkel's campaign pledges to reject higher taxes and pooled euro-area debt. She hasn't commented on its substance since its publication, deferring to SPD leaders who criss-crossed Germany lobbying members to back the agreement.
SPD Policies
"There are a lot of policies in there that the SPD campaigned for," Olaf Scholz, the SPD mayor of Hamburg who helped negotiate the accord, said on Dec. 11 in an e-mailed response to questions. As a result, "a broad majority" of SPD members will vote in favor of the accord, he said.
Merkel remains Germany's most popular politician with a 68 percent approval rating, followed by Schaeuble at 66 percent, a Dec. 2-3 Infratest poll of 1,003 people for ARD television showed. Their Christian Democratic bloc won 41.5 percent of the vote on Sept. 22, compared with the SPD's 25.7 percent.
Polls suggest that voters would punish the SPD if new elections were held. Gabriel and Andrea Nahles, the SPD's general secretary tipped by Spiegel to become labor minister, have said they might have to quit if members refuse to ally with Merkel and opt for opposition.
"There will be no need for a Plan B," Frank-Walter Steinmeier, the foreign minister in Merkel's first-term cabinet, who may take the same post in her third term, said in an online forum hosted by the SPD.