The Return of Global Growth in 2014
A theme is emerging for 2014: Global growth returns.
Chief executive officers and strategists alike are conveying a more positive view on the global economy. Their commentary echoes recent improvements in the data, like unemployment falling to 7 percent and gross domestic product accelerating to 3.6 percent. This is why 34 percent of Bloomberg customers now believe the Federal Reserve could announce a taper program as soon as next week's meeting of the Federal Open Market Committee, up from 16 percent one month ago.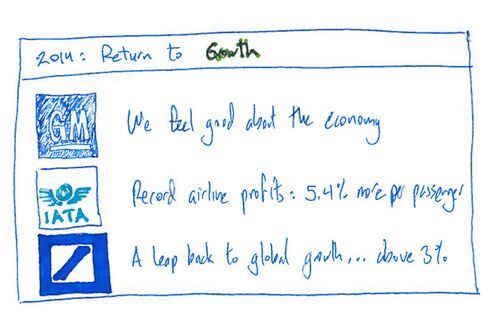 Deutsche Bank's 71-page World Outlook hit our mailbox this morning, on the heels of similar analysis from Goldman Sachs Group Inc. and Morgan Stanley. Strategists at the three banks forecast global GDP growth next year of 3.4 percent, comfortably above the 3 percent threshold that has defined strong fundamental conditions over the past 15 years.
If in fact the world economy accelerates to pre-crisis levels of growth, the question for investors becomes: Which sectors will lead?
Bloomberg calculates earnings growth by sector, based on bottoms-up analysis from analysts tracked quarterly around the world. Looking at the MSCI World Index, earnings for eight of 10 sectors are forecast to grow next year. Financials will lead at 12.8 percent, though we believe financial earnings will be driven by continued asset improvement rather than broader loan growth. So we instead focus on consumer services and consumer goods, ranking second and third respectively.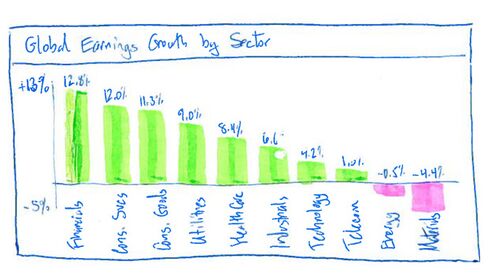 Two exchange-traded funds (ETFs) enable investors to participate in potential global consumption gains, dovetailing with another powerful theme: Emerging middle class prosperity in emerging markets. The ETFs are the iShares Global Consumer Staples ETF (KXI ), and the iShares Global Consumer Discretionary ETF (RXI ).
As Deutsche Bank chief economist Peter Hooper writes:
"After a year of disappointingly sluggish growth, we project the global economy to bounce back to a more trend-like rate of expansion in 2014. Major fiscal headwinds are scheduled to dissipate, and in most cases, central banks will keep their feet on the accelerator, boosting private spending."
We agree, and we believe the data on earnings growth argues in favor of global consumer stocks.