Lululemon Sees Tight Times Ahead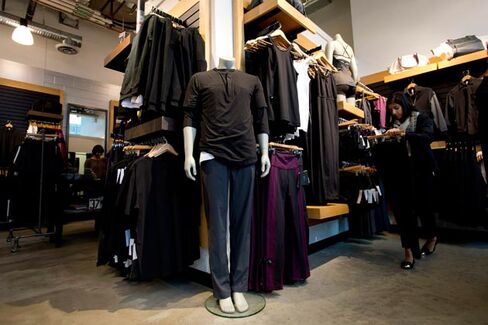 Lululemon is working to tighten its practice by bringing in a new chief executive, but a financial update today makes it clear that yoga retailer won't be striking a passable warrior pose for a while.
The Vancouver-based company dialed down its outlook based on "both macro and execution issues" just days after naming a new CEO, former Burton chief Laurent Potdevin. Lululemon said it would post profit in the current quarter of $.78 to $.80 per share, far short of analysts' expectations around $.84 a share.
Yet the company's recent stretch of was pretty strong: In the past quarter, sales increased 20 percent to $380 million while profit ticked up 15.4 percent to $66.1 million. Revenue at stores open more than one year increased 5 percent. "The third quarter went pretty much as we had planned and guided," CFO John Currie said on a conference call this morning.
So why the sad-sack outlook? Lululemon's traffic—and premium price point—is getting crunched by big promotions at competitors like Fast Retailing's Uniqlo and Gap's Athleta brand. Meanwhile, its enhanced quality control, beefed up since the transparent-pants fiasco in the spring, has been flagging more apparel as subpar, making for an uneven supply chain and forcing the company to turn away some orders.
And then there was founder Dennis "Chip" Wilson's ugly comments about "thigh-rubbing" on Bloomberg television. "I'm not saying we can see a one-to-one correlation, but let's face it, we've had lots of PR issues this year," Currie said today. "Out job is to make sure that that's a short-term impact."
One possible counterpoint that investors frantically dumping the stock this morning might want to keep in mind: Potdevin steps into the C-suite in January. The more Lululemon can dial down expectations before then, the better chance he has of looking like a hero, a savior, a yogi warrior.
Before it's here, it's on the Bloomberg Terminal.
LEARN MORE