Germany's Coalition to Require More Women in Boardrooms
Christian Democrats and Socialists say too few women are on boards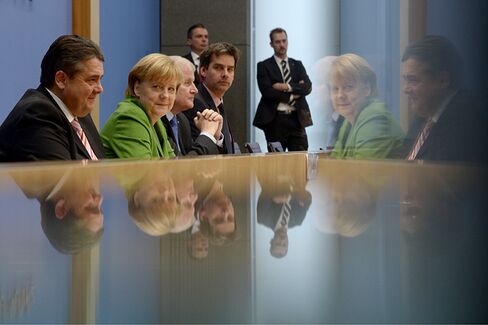 Before Germany's Social Democratic Party (SDP) reached a coalition agreement with Angela Merkel's Christian Democratic Union (CDU) in November, it set 10 conditions. One of them, die Frauenquote, or the women's quota, has many of the country's corporate executives über annoyed. The idea is to force companies listed on Germany's DAX index to fill at least 30 percent of their supervisory board seats with women by 2016. (German public companies have a supervisory board, equivalent to a board of directors, and a management board that runs the company.)
Prior to the September election, the proposal had only the tepid support of a few leading Christian Democrats. But Merkel embraced much of the SDP platform, including the quota, to strike a coalition deal. Once a government is sworn in—probably on Dec. 17—gender quotas will be at the top of the agenda, along with a national minimum wage and a lower retirement age. The measure will also set quotas for women on management boards.
Of 191 executives on the management boards of Germany's 30 biggest companies, only 12 are women, a 20 percent decrease from last year, according to Bloomberg data. Women account for 21.9 percent of the seats on supervisory boards. "Our biggest companies still have almost no women in their leadership," says German Minister of Labor and Social Affairs Ursula von der Leyen, one of a handful of quota supporters in the CDU. "With that sort of calling card, Germany can't survive much longer internationally." (Among the companies in the Standard & Poor's 500-stock index, women hold 17 percent of board seats.)
European Commissioner for Justice Viviane Reding said in an interview with Germany's Die Welt that she was "deeply disappointed" by the slow pace of change at DAX-listed companies. She pointed to France's success: A year after legislation was implemented in 2011 requiring board quotas, the proportion of women on French boards jumped from 12 percent to 22 percent.
A pending proposal at the European Commission would encourage companies to appoint women to at least 40 percent of their supervisory board positions by 2020. Companies could face sanctions if they don't.
In Germany, firmly entrenched traditions and social policies have resulted in many women staying home or working part time, says Henrike von Platen, head of a professional women's lobbying group. The return to affluence after World War II encouraged single-breadwinner households and cemented attitudes developed under the Nazi regime, when women received medals for bearing four or more children.
German executives say there aren't enough qualified women in leading industries, and a well-intended law won't change that. "Self-imposed quotas are a far more sensible way of achieving company-specific goals than a blanket quota," says HeidelbergCement spokesman Andreas Schaller. Nine percent of the company's leaders are women. "As with other industrial companies, there are very few women studying the relevant subjects," he says. The heads of BMW, Daimler, and Volkswagen have echoed those sentiments.
Siemens Chief Executive Officer Joe Kaeser is the rare executive who has voiced support for legislative quotas: At a recent women's networking event in Munich, he reversed his company's long-held objection. "If businesses can't manage it on their own, then we need to start thinking about whether it needs to be legislated."
Before it's here, it's on the Bloomberg Terminal.
LEARN MORE