Surprise! Generic-Drug Prices Spike
Less competition and shortages are pushing up drug prices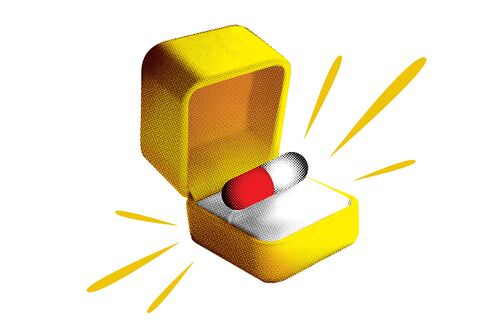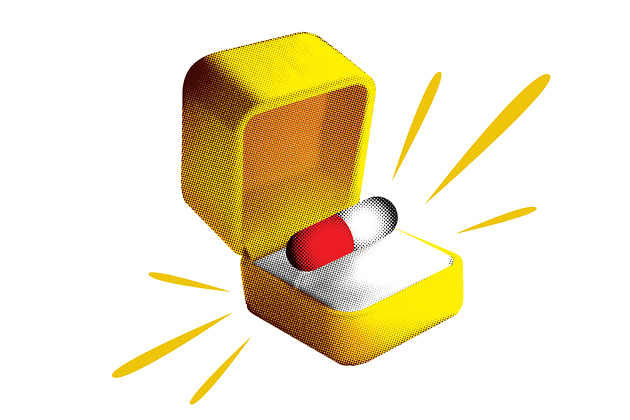 Bill Drilling, an owner of a pharmacy in Sioux City, Iowa, apologizes as he rings up a customer's three-month supply of the heart medicine digoxin. The total is $113.12—almost 10 times the cost for the same prescription in August. Digoxin isn't a new miracle drug. It's a plant-derived medicine that's been in use since the 18th century and one of nearly 100 generics that have at least doubled in price over the past year, an unprecedented number, according to pharmacists and industry consultants. "I've been doing this since 1985, and the only direction that generics-drug prices have gone is down," Drilling says.
Off-patent medicines saved patients in the U.S. $193 billion in 2011 and more than $1 trillion since 2002, says the Generic Pharmaceutical Association. Yet their cost containment effect has diminished noticeably this year, according to Express Scripts Holding, the largest processor of prescription drug claims in the U.S. Its index of the most-often-prescribed generic drugs shows the annual rate at which prices have been falling slowed to 14 percent in September, from 30 percent in January.
An analysis by Adam Fein, president of Pembroke Consulting, found prices on more than a dozen generics have soared at least 10-fold over the past 12 months. "This has happened with the occasional individual drug, when there is a shortage or something," says Robert Skenderian, owner of Skenderian Apothecary in Cambridge, Mass. "I've never seen it like this—with a whole range of medications where the price spikes overnight."
Doxycycline, an antibiotic used to treat conditions including malaria and Lyme disease, kicked off the trend in November 2012, says Vic Curtis, senior vice president for pharmacy at Costco Wholesale. He ticked off nine other medicines whose prices have jumped fourfold or more in the past couple of months, including drugs for enlarged prostates, breast cancer, and heart conditions. "The list just keeps growing, and that's what is concerning," he says.
Why the cost of so many drugs has risen and remained high puzzles academics and analysts. Parts of the market are opaque, because drugstore chains and distributors negotiate discounts off manufacturers' list prices. Yet drugmakers still compete with each other on the basis of price. "It's not like Sandoz has any control if Mylan charges less," notes Gerard Anderson, a professor at Johns Hopkins Bloomberg School of Public Health, referring to two leading generics makers. And it isn't pharmacies jacking up prices, Costco's Curtis says. His company has stuck to its policy of a maximum 15 percent markup over its cost for generic medicines.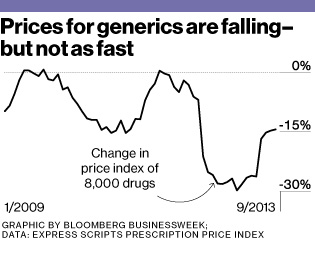 A more likely culprit is a frenzy of mergers since 2011 that has cut the number of producers of some generics to just one in some cases, says Mason Russell, vice president for strategic consulting at Truven Health Analytics, which publishes the industry pricing guide Red Book. Three companies—Teva, Actavis, and Mylan—accounted for 44 percent of global generics revenue last year, up from 34 percent in 2007, according to data compiled by Bloomberg Industries. Teva and Myland declined to comment, while Actavis didn't respond to requests for comment. Neil Moorhouse, a spokesman for Sandoz, the generics unit of Novartis, notes that while prices of generics "can fluctuate based on supply and demand," in the "overwhelming majority of cases, pricing remains far below" the cost of the brand-name drug.
In a Nov. 7 earnings call, Lannett Chief Executive Officer Arthur Bedrosian noted the generics distributor had raised the price of digoxin this fall. "We are now only one of two people in the market," he said. Lannett spokesman Robert Jaffe says the company was responding to a price increase by manufacturer Jerome Stevens Pharmaceuticals. Jerome Stevens did not respond to a request for comment.
In the case of doxycycline, which is produced by several companies, the spike in price seems to have been triggered by a temporary shortage. Hikma Pharmaceuticals stopped making the drug in November 2012 after the U.S. Food and Drug Administration flagged inadequate quality controls at a plant in New Jersey. While the company has since resumed production, the price remains 6,000 percent its level a year ago. In an August interview, Hikma CEO Said Darwazah explained it was "forced" to raise prices because its competitors raised theirs.
Drilling, the Sioux City pharmacist, says the increases have come in waves. "This is starting to create hardship," he says. Many of his customers fall into what is known as the Medicare "doughnut hole," a coverage gap in which patients pay 47.5 percent of branded-drug costs and 79 percent of a generic's price. Russ Clifford, a retired music teacher, learned digoxin's cost had jumped more than fourfold when he picked up his 30-day supply in mid-November. Clifford and his wife have had to dip into savings to pay their rising pharmaceutical bills.
The recent spikes may prove to be just a blip as a new series of branded drugs lose patent protection over the next few years and mergers in another corner of the pharma industry help force prices down. On Dec. 10, drug distributor Cardinal Health and pharmacy benefit manager CVS Caremark announced a venture that will be the biggest buyer of generic medicines in the U.S. The news immediately sent shares of generic-drug makers down.
Before it's here, it's on the Bloomberg Terminal.
LEARN MORE