BlackBerry Gives Lenders More Time to Decide on Debt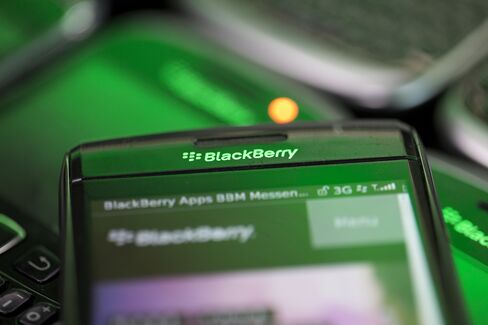 BlackBerry Ltd., the struggling smartphone maker, extended the deadline for its lenders to buy as much as $250 million in convertible debt, letting them see its latest financial figures before making a decision.
The investors, including Fairfax Financial Holdings Ltd., now have until Jan. 13 to commit to acquiring the debt instruments, BlackBerry said yesterday in a statement. The company reports fiscal third-quarter results on Dec. 20.
Fairfax and other lenders acquired $1 billion in convertible debt last month, giving BlackBerry a chance at a turnaround after ceding market share to Apple Inc. and Samsung Electronics Co. The deal included the option for the investors to acquire the additional debt later on.
BlackBerry, based in Waterloo, Ontario, slid 1 percent to $5.91 at the close yesterday in New York, before the extension was announced. The shares have dropped 50 percent this year.