Wanted: More Startups in St. Louis. Reward: $50,000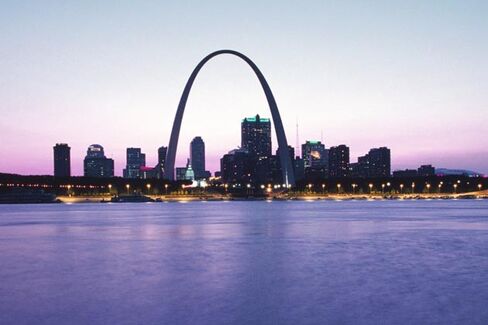 Move your startup to St. Louis, get $50,000, no strings attached. That's the pitch from Arch Grants, a nonprofit there that has awarded $1.9 million in grants to 35 businesses since in 2012, when it launched its first competition to attract promising ventures to the city's downtown.
Unlike a business accelerator or incubator program, founders don't give up equity or commit their first-born. Funded primarily by donations from individuals and businesses including Emerson Electric, Monsanto, and Peabody Energy, the idea is to strengthen the city's startup community by investing and supporting "the best and brightest" innovators, rather than "waiting for Fortune 500 companies to move in" and create jobs, explains Ginger Imster, the nonprofit's executive director.
Arch Grants is kicking off its third competition, accepting applications through Feb. 1. Once winners are announced in June, they'll be awarded the money in tranches over the course of a year, starting in July, and they'll get discounted housing and work space, among other perks. Imster, who is raising funds for the program, isn't sure how many grants will be awarded, but she expects it will be around 20, like last year.
There were just over 700 applicants for the last round, up from 420 for the first crop. Of the 35 businesses that landed grants, one was acquired, one is no more, and the rest are still in business, according to Imster. She says they have created 128 jobs, brought in just over $3.2 million in revenue, and attracted about $5.8 million in follow-on capital, as of Sept. 1 of this year.
The contest is one of a flurry of recent efforts to boost local economies by backing small ventures and teaching people business skills. In September, Etsy expanded its training program for artisans, and in November, Goldman Sachs brought its 10,000 Small Business initiative to Detroit, following an earlier push by others there. Such efforts don't always succeed: Witness the recent closing of a pet food retailer that received a grant to open in downtown Macon, Ga.
St. Louis native Jim McKelvey, who heads Arch Grants's advisory board and is a co-founder of mobile payments company Square, says the $50,000 grants set the nonprofit apart from other initiatives that support startups. (Square has been hosting a separate series of events to boost small businesses in different cities, including St. Louis.) "Companies have a real hard time at the beginning," says McKelvey, and the loot can mean the difference between success and failure. "I've seen a lot of companies in Arch Grants that probably wouldn't exist but for this program," he says.
"It gets the money into the company's hands at a very, very early stage," McKelvey says, in a city where entrepreneurs gain more for their money in rent and employee salaries, compared to higher-cost cities such as San Francisco or New York.
Before it's here, it's on the Bloomberg Terminal.
LEARN MORE