Uruguay Becomes World's First Nation to Legalize Marijuana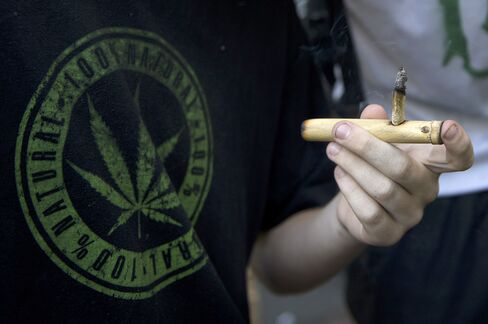 Uruguay, a nation of 3.3 million tucked between Argentina and Brazil, became the world's first nation to legalize the cultivation, sale and use of marijuana in a move aimed at curbing the cost of combating drug trafficking.
Lawmakers approved the bill by a count of 16-13 after a 12-hour debate in the Senate late yesterday. The law will create a state-regulated market with prices set by the government and allow pharmacies to sell as much as 40 grams (1.4 ounces) of marijuana a month to registered users who must be over 18 years old and residents of Uruguay.
Uruguay, led by 78-year-old former guerrilla Jose Mujica who has also legalized gay marriage during his presidency, is spearheading a movement in Latin America to combat drug trafficking by legalizing the use of the psychoactive substance. In the U.S., Colorado and Washington last year became the first states to legalize the recreational use and sale of cannabis. Medicinal marijuana is legal in 20 U.S. states including California. Research to find alternatives to prohibition has been funded by billionaire George Soros, who met Mujica in New York in September.
"Einstein said there's nothing more absurd than trying to change results by always repeating the same formula," Mujica told La Republica newspaper today in an interview. "That's why we're trying other methods."
Mujica said he hopes the measure will provide savings for the government which is spending $80 million a year combating drug trafficking.
Brazilian Concern
Mujica's initiative faces resistance from neighbors nervous about spillover across their borders and almost two-thirds of Uruguayans are wary that the government's plan could go wrong, according to an opinion poll.
Mujica said that Brazilian President Dilma Rousseff told him she didn't think the measure would work in Brazil because of the size of her country. Brazil last month sent a delegation to Uruguay to express concern about the proposed legislation.
In a Cifra/Gonzalez Raga & Asociados survey, 61 percent of Uruguayans said they opposed legalizing the sale of cannabis while 28 percent expressed support. About 11 percent had no opinion. The Aug. 15-24 poll of 1,004 people had a margin of error of three percentage points.
"Since I can't fight drug trafficking, I legalize it. That's doesn't seem like the right way," Pedro Bordaberry, a lawmaker who opposed the bill, said during the debate, according to El Pais. "We can't experiment with this, it's too serious."
'Brought Aboveground'
Setting the correct price will be one of the government's main challenges, John Walsh, Senior Associate for Drug Policy and the Andes at the Washington Office on Latin America, said in a phone interview. While the authorities will probably seek to undercut illegal drug dealers with a lower price, if the government sets the price too low, illegal drug dealers may seek to divert supplies from the government market to the black market.
Support for the legalization of cannabis is growing and more countries will follow Uruguay's example, said Tom Angell, chairman of Marijuana Majority, a U.S.-based organization that lobbies for policy reform.
"Uruguay's move today is a pretty clear signal that the global war on marijuana is ending. Next year more U.S. states are likely to vote on legalization, and leaders of other countries in Latin America are talking about the need for a new approach," Angell said in an e-mailed statement. "This industry is being brought aboveground and taken out of the hands of drug cartels and gangs."
'National Cause'
The government will now have to write specific rules and regulations for the law that will take about 120 days. Schools will include lessons on the perils of cannabis use in curricula, companies will be prohibited from promoting marijuana in advertisements, and the state will determine the maximum amount of THC, the main psychoactive component, permitted in a driver of a vehicle, according to articles of the law.
"They've said we can't control it because we can't even control the hooligans of Penarol, but we're going to try it to free future generations from this plague," Mujica told La Republica referring to a soccer team in Uruguay. "This should be a national cause and we hope people understand and lend a hand."
Before it's here, it's on the Bloomberg Terminal.
LEARN MORE