RBNZ Signals 2014 Rate Increases as Inflation Accelerates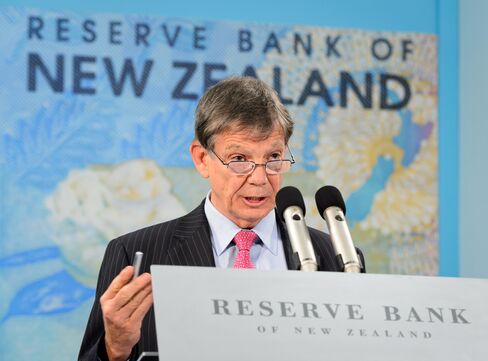 New Zealand's central bank stepped up its inflation-fighting rhetoric and signaled it will start raising interest rates in the first half of next year as the economy strengthens. The currency rose.
"The bank will increase the official cash rate as needed in order to keep future average inflation near the 2 percent target midpoint," Reserve Bank of New Zealand Governor Graeme Wheeler said in statement in Wellington today after leaving the benchmark at a record-low 2.5 percent. In October, he said increases "will likely be required" in 2014.
New Zealand is set to become one of the first developed nations to begin raising borrowing costs as accelerating economic growth and a housing boom stoke price pressures. Given the outlook for faster inflation, "it is becoming unnecessary to maintain the current degree of monetary stimulus," the central bank said today.
"The implication is they start raising in March, and we feel comfortable with that," said Stephen Toplis, head of research at Bank of New Zealand Ltd. in Wellington. "The RBNZ has taken on board the stronger activity readings from the domestic economy and that's entirely appropriate."
Wheeler dropped from his policy assessment a previous comment that the New Zealand dollar's strength would give him greater flexibility on the timing and magnitude of rate increases. The kiwi climbed, buying 82.60 U.S. cents at 11:33 a.m. in Wellington, from 82.38 cents before the RBNZ statement.
Lending Curbs
Wheeler introduced limits on low-deposit mortgage lending in October to curb booming house prices and give himself scope to delay raising rates, which the bank is concerned will fuel demand for the dollar. He said today that while the high exchange rate will partly offset the strength in domestic demand by curbing exports, "the bank does not believe it is sustainable in the long run."
The Reserve Bank forecast that the three-month bank bill yield will be 3.1 percent in the second quarter next year, up from 2.7 percent in the current quarter. The outlook, which is seen as a guide to the direction of the cash rate, suggests an increase in the benchmark in the first half of 2014.
The forecasts for the yield out to early 2016 are higher than in September, reflecting stronger domestic demand and export prices, the central bank said in its Monetary Policy Statement, also published today.
"We want to send a message that we are serious about the policy objectives," Wheeler told reporters. "Our forecasts suggest the cash rate will need to increase around 2 1/4 percent over the next 2 1/4 years."
Rates Bets
Ten of 15 economists surveyed by Bloomberg News last week expected a rate rise by March 31. Three expected an increase in April and two tipped June. None forecast a change today. There is a 87 percent chance of a rate increase by March, according to swaps data compiled by Bloomberg.
The RBNZ forecasts growth will average 3 percent in 2014 before starting to slow. It raised its growth forecast for the year through March 2015 to 2.8 percent from 2.3 percent, citing construction and a boost to spending from rising house prices. Growth will slow to 2.1 percent by March 2016, it said.
"The expansion in the economy has considerable momentum," Wheeler said. "New Zealand's terms of trade are at a 40-year high, household spending is rising and construction activity is being lifted by the Canterbury rebuild and the response to the housing shortage in Auckland."
Business Confidence
Business confidence rose to near a 15-year high last month, according to an ANZ Bank New Zealand Ltd. survey. Employers added 27,000 jobs in the three months ended Sept. 30, the most in more than six years, Statistics New Zealand said on Nov. 6. House prices rose 9.6 percent in November from a year earlier, the Real Estate Institute said today.
The central bank forecasts annual inflation will be 1.5 percent by the end of 2014, compared with its September projection of 1.9 percent. The lower estimate reflects a stronger exchange rate and assumes higher borrowing costs. Consumer prices rose 1.4 percent in the year ended Sept. 30.
Inflation isn't projected to reach the midpoint of the 1 percent to 3 percent range that Wheeler targets until the final quarter of 2015, when it will accelerate to 2.2 percent.
New Zealand is being buoyed by an estimated NZ$40 billion ($33 billion) rebuild of the South Island city of Christchurch following a series of earthquakes in 2010-11 that destroyed roads, homes and commercial property. A lunchtime quake in February 2011 killed 185 people when some central city buildings collapsed.
The central bank has left the cash rate unchanged since March 2011 to allow the economy to recover from the earthquakes and to revive confidence after Europe's sovereign debt crisis curbed global demand. Exporters have also been buffeted by near-zero interest rates in the U.S. and Europe, which helped boost the New Zealand dollar.
Before it's here, it's on the Bloomberg Terminal.
LEARN MORE