Cameron's Self-Taken Photograph With Obama Criticized by Papers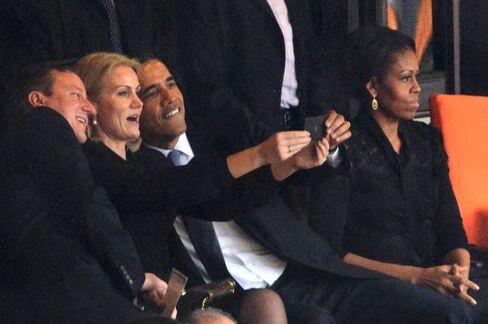 A picture of U.K. Prime Minister David Cameron taking part in a self-taken photograph with U.S. President Barack Obama and Danish Prime Minister Helle Thorning-Schmidt at Nelson Mandela's memorial service drew criticism from British newspapers as disrespectful.
"No Selfie Respect," the Sun tabloid, Britain's biggest-selling daily, says on its front page this morning over a full-page picture of the three leaders. The Mirror dubs Cameron "Idiotic" for the photograph.
The Metro newspaper, a freesheet handed out in major cities, focuses on Michelle Obama's stony face at the edge of the shot as the three leaders take the photograph on a camera phone. "You're going to get Helle from Michelle," it reads.
The Daily Mail called it "as far from statesmanlike as you can imagine," while in an editorial the Independent said the leaders will "look back on this selfie, years from now, and think 'what on earth were we doing? We're world leaders, not a bunch of giggling teenagers.'"
Karl Erik Stougaard, online managing editor of the Danish newspaper Politiken, told the BBC's "Today" radio program that the same photograph had prompted amusement in Denmark this morning.
Before it's here, it's on the Bloomberg Terminal.
LEARN MORE