U.S. Stocks Drop With Gold, Silver as Dollar Gains on Fed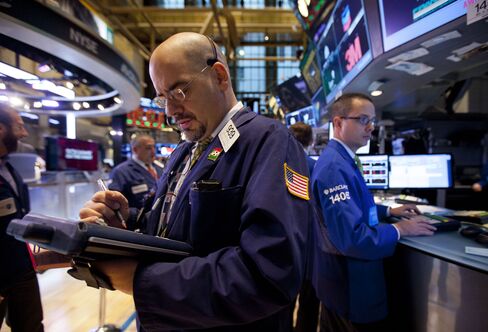 Dec. 12 (Bloomberg) -- U.S. stocks fell for third day, sending the Standard & Poor's 500 Index to the lowest in a month, Treasuries declined and the dollar gained as growth in retail sales added to speculation the Federal Reserve will slow the pace of stimulus. Gold and silver tumbled.
The Standard & Poor's 500 Index lost 0.4 percent to 1,775.50 at 4 p.m. in New York after sliding 1.1 percent yesterday. Treasury 10-year yields added almost three basis points to 2.88 percent. The Bloomberg U.S. Dollar Index, a gauge of the currency against 10 counterparts, climbed 0.4 percent. The Stoxx Europe 600 Index fell 1 percent to the lowest since October and the MSCI Asia Pacific Index slid 1.2 percent. Gold lost more than 2 percent; silver sank more than 4 percent.
More economists predict the Fed will taper bond buying as soon as next week and data today showed U.S. retail sales increased more than estimated. The world economy is primed for its fastest expansion in four years, with the U.S. propelling the improvement in output.
"We've had a lot of pretty good economic news lately and in the face of that data we're seeing the market starting to digest the exuberance it has had in 2013," Randy Bateman, who oversees $15 billion as chief investment officer of Huntington Asset Advisors in Columbus, Ohio, said by phone. "A lot of it might be in anticipation of the FOMC announcement next week and whether this good economic news is enough for the Fed to start its tapering process."
Global Economy
Global growth will accelerate at least 3.4 percent in 2014 from less than 3 percent this year as the euro area recovers from recession and China and other emerging markets stabilize, according to economists at Goldman Sachs Group Inc., Deutsche Bank AG and Morgan Stanley. The U.K. will be a standout, while Japan risks damping the mood by suffering a mid-year slowdown after an April increase in sales taxes.
The Fed may begin reducing its $85 billion of monthly bond purchases at its Dec. 17-18 meeting, according to 34 percent of economists surveyed Dec. 6 by Bloomberg, up from 17 percent in a Nov. 8 poll. Retail sales rose 0.7 percent in November, the most since June and more than the median estimate in a survey of economists, Commerce Department data showed. Initial jobless claims increased to 368,000 last week from 300,000 in the preceding week, another report showed.
Chinese policy makers meet this week to set growth targets while central banks in Indonesia, New Zealand, South Korea and Switzerland maintained their benchmark interest rates today.
2013 Rally
The S&P 500 has climbed more than 24 percent in 2013, headed for its best yearly advance in a decade, with consumer-discretionary, health-care and industrial shares leading gains in all 10 of its main industry groups. The benchmark index has retreated 1.8 percent from its last record on Dec. 9 after trading for almost 17 times its companies reported earnings, near the highest level since 2010.
Consumer staples, health-care and technology companies fell at least 0.7 percent today to lead losses among seven of the 10 main groups in the S&P 500. Telephone and utility shares are the two worst-performing groups of the year, up 3.6 percent and 6.6 percent respectively.
Oracle Corp. dropped 2.8 percent after RBC Capital Markets LLC lowered its rating on the stock. Lululemon Athletica Inc. plunged 12 percent after projecting fourth-quarter profit that trailed analysts' estimates. Facebook Inc. rose 5 percent as S&P Dow Jones Indices said it will join the S&P 500 next week.
Dollar Gains
The dollar strengthened versus 13 of 16 major peers tracked by Bloomberg, climbing at least 1 percent against the Australian dollar and Norwegian krone.
The yen weakened 0.8 percent to 103.30 per dollar, taking this year's losses to 16 percent. Japan's currency slipped 0.6 percent to 142.02 per euro. The euro fell 0.3 percent to $1.3748.
Gold for February delivery declined 2.6 percent to settle at $1,224.90 an ounce, the biggest drop for a most-active contract since Oct. 1, and silver futures slid 4.4 percent to $19.453 an ounce, leading the S&P GSCI Index of commodities down 0.6 percent.
Natural gas advanced 1.7 percent to settle at a two-year high of $4.409 per million British thermal units. The Energy Department's Energy Information Administration reported U.S. stockpiles dropped 81 billion cubic feet last week to 3.533 trillion.
European stocks fell for a third day, following the S&P 500 lower, as commodity and technology shares led losses in all 19 industry groups.
European Movers
John Wood Group Plc plunged 9.9 percent after predicting that earnings from its engineering division will probably drop 15 percent in 2014. PSA Peugeot Citroen slid 7.6 percent after saying it will take a 1.1 billion-euro ($1.5 billion) charge. The French carmaker said its partnership with General Motors Co. will generate smaller savings than it had forecast.
Ziggo NV jumped 5.4 percent as the Dutch broadband provider said that Liberty Global Plc has revived talks to buy the company. People familiar with the matter said the U.S. cable TV operator may make a bid before the end of this year.
The MSCI Emerging Markets Index fell 1 percent its lowest level on a closing basis in almost a month, amid concern the Fed will reduce stimulus. Benchmark gauges in India, the Czech Republic, Poland, Turkey and Israel fell more than 1 percent. The Philippine's PSEi Index slumped 2.1 percent, the most since Sept. 30.
Spanish Yields
Spain's five-year yield increased eight basis points, or 0.08 percentage point, to 2.67 percent. It fell to 2.52 percent yesterday, the lowest since 2005. The rate on similar-maturity Italian securities increased seven basis points today to 2.67 percent.
European Central Bank policy maker Peter Praet said assessing sovereign-bond risks in a stress test may discourage banks from using ECB funds to load up on government debt. In an interview with the Financial Times published today, Praet said if the Comprehensive Assessment put pressure on banks in a way that forced them to cut lending, the central bank could act by providing more liquidity.
Euro-area industrial production fell 1.1 percent in October, after contracting 0.2 percent in September, data today showed.
Kiwi, Aussie
New Zealand's dollar was down 0.2 percent at 82.46 U.S. cents after slipping 0.7 percent yesterday. Reserve Bank of New Zealand Governor Graeme Wheeler said the economy's strength means he may raise the official cash rate 2.25 percentage points within 2 1/4 years after holding it at a record-low 2.5 percent today.
The Aussie dollar tumbled 1.3 percent to 89.33 U.S. cents after Reserve Bank of Australia Governor Glenn Stevens told the Australian Financial Review the nation needs the currency to be closer to 85 U.S. cents.
The Indian rupee weakened 1.4 percent, its biggest drop in more than a month and the worst performer among 24 developing-nation currencies monitored by Bloomberg.
Ukraine's hryvnia weakened for a third day, slumping as much as 0.3 percent to a two-year low of 8.2875 against the dollar. The U.S. said it's considering sanctions against the country after riot police tried to clear thousands of anti-government activists off the streets of the capital Kiev.
To contact the reporters on this story: Nikolaj Gammeltoft in New York at ngammeltoft@bloomberg.net; Michael P. Regan in New York at mregan12@bloomberg.net
To contact the editor responsible for this story: Lynn Thomasson at lthomasson@bloomberg.net