This Season, the Revolutionary War Will Be Televised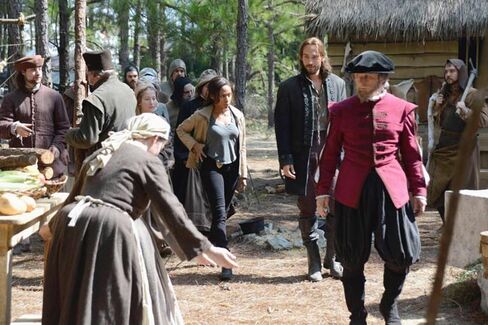 In the hunt to replace such hits as The Walking Dead, True Blood, and Breaking Bad, TV producers have landed in an odd time slot: the 1770s. AMC has Turn, a series about a ring of Revolutionary War spies that looks compelling. Sons of Liberty is a scripted mini-series being developed for History Channel; its trailer reportedly shocked advertisers at the annual A&E upfront with a graphic portrayal of a decapitation-by-cannonball. Meanwhile, ABC, with the help of Lionsgate, is developing The Thirteen, a series which imagines America if the British had never left.
The networks may be onto something. The first episode of Fox's Sleepy Hollow, which rewarms the lore of Ichabod Crane and zips it from a Revolutionary battlefield to a contemporary police cruiser, drew 10 million viewers—Fox's highest rated fall drama premiere in six years. It's cop drama meets mystical science fiction with muskets thrown in. Time critic James Poniewozik called it an "ingenuously loopy concept" and "ridiculously good."
Why Yankee insurrection all of a sudden? I don't know. I also don't know why The Walking Dead drew an historic 16.1 million viewers, or why we're collectively hooked on the antics of a bunch of bearded dudes making duck calls. As subject matter, however, the Revolutionary War is patriotic. It also lets us root for the underdog. The combination of the two certainly works for the Olympics, talent shows such as American Idol, and political dramas with a soundtrack heavy on French horns.
It's also probably relatively cheap to produce. Recreating 18th-century America doesn't require any of the vintage machinery of a World War II drama or the slick special effects of science fiction fare. It doesn't even call for elaborate zombie makeup or the Technicolor precision of Mad Men sets. Just some tricorner hats and scraggly trees.
Finally, it's easy to care about the characters. They were up against great odds; the future of the country hung in the balance. And everyone needed a warm coat, not just the guy on Survivorman.
Before it's here, it's on the Bloomberg Terminal.
LEARN MORE