The Latest Danger in Ukraine: A Currency Crash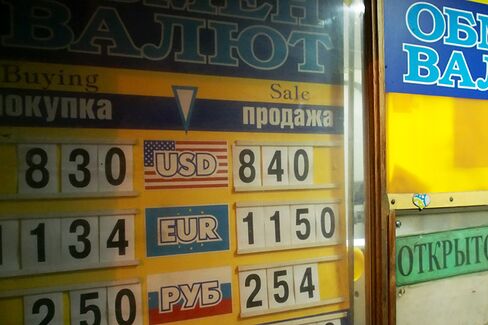 As street protests in Ukraine enter their third week, a new crisis is brewing that could force President Viktor Yanukovych's hand. The nation's currency reserves have fallen so low that the central bank may soon be unable to support the hryvnia at its current value. Traders' bets on a weaker hryvnia reached a one-year high on Dec. 10, following a 9 percent plunge in foreign reserves last month.
Borrowing costs by lenders have soared in recent weeks, suggesting that the government's efforts to prevent a devaluation are creating cash shortages. "The disruption of normal business operations poses risks for inflation, and potential capital flight could raise pressure" on the currency, analysts Vladimir Pantyushin and Andreas Kolbe of Barclays wrote in a report today.
The Ukrainian government urgently needs $10 billion to keep the economy afloat. Yanukovych, though, has refused to accept bailout conditions set by the International Monetary Fund, and his recent talks with China and Russia about potential aid have been inconclusive. Yanukovych's Nov. 21 decision to spurn a European Union trade deal, in favor of closer ties with Russia, sparked the protests that have brought hundreds of thousands of people into the streets.
As EU foreign policy chief Catherine Ashton arrived in Kiev today for two days of talks, the government sent conflicting signals about its intentions, with Yanukovych promising economic reforms and saying he would restart talks with the IMF and sign an EU trade agreement in March. At the same time, police were sent to dismantle protesters' blockades in Kiev's central square, and the headquarters of jailed ex-Prime Minister Yulia Tymoshenko's party was raided.
"The authorities in Ukraine have a tendency of saying one thing and doing another," says Liza Ermolenko, an emerging-markets economist at Capital Economics in London. "It's literally impossible to predict what might happen."
More than anything, Yanukovych's next step will probably be determined by where, and how quickly, he can get desperately needed aid. A quick agreement with the IMF is unlikely because Yanukovych has repeatedly rejected its demands for budget cuts and higher gas prices, says Tim Ash, chief economist for emerging markets at Standard Bank Group in London.
Russia could give Ukraine speedy relief in the form of lower prices for its gas. But in return, Moscow would likely demand that Ukraine join a Russian-led customs union, which would preclude an EU trade deal.
In the meantime, protests are deepening Ukraine's third recession since 2008. Gross domestic product shrank 1.3 percent in the third quarter. "The ongoing street demonstrations have further disrupted economic activity over the past few weeks," Ash says. "Likely the economy dipped even further into recession in the final quarter of the year."
Before it's here, it's on the Bloomberg Terminal.
LEARN MORE