Lululemon's Founder Exits and a Snowboard Exec Enters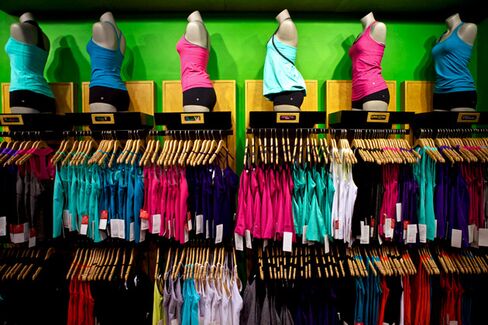 Lululemon is finally balancing its corporate chakras. Outspoken and occasionally toxic founder Dennis "Chip" Wilson is relinquishing the chairman's seat and the company has found a replacement for Chief Executive Officer Christine Day, who was in charge during the transparent-pants fiasco.
Laurent Potdevin, formerly president of Toms Shoes and manager of LVMH Moet Hennessy Louis Vuitton, steps into the corner office in January. (We assume the yoga-gear maker didn't find Potdevin via its very public call for online applications, but you never know.) Michael Casey, lead director of the board and formerly chief financial officer of Starbucks, will become chairman.
Wilson, who founded Lululemon in 1998, is the force behind two of Lululemon's most unique traits: a "Namaste" corporate culture and an extremely premium price point. He did for synthetic, stretchy pants what Starbucks did for coffee. He also ticked people off. Just last month he triggered a firestorm when he suggested on Bloomberg TV that plus-size people should shop elsewhere. "Quite frankly, some women's bodies just actually don't work," he said. "It's about the rubbing through the things, how much pressure is there."
Wilson broadcast a sort-of video apology days later, which was then criticized for not being more contrite. "I'm sad for the people of Lululemon who I care so much about that have really had to face the brunt of my actions," he said.
Day, meanwhile, announced her resignation in June, just a few months after her team was forced to recall 17 percent of Lululemon's pants for being too transparent. Within days of the company's mea culpa, one-quarter of its market value had vanished. (The stock has since made a partial recovery.)
Potdevin has a master's degree in engineering, an MBA, and plenty of experience steering a company with cult-level loyalty. He worked at Burton for 15 years, exiting in 2010 after five years as CEO. "Laurent has helped steer Burton through some very challenging periods," founder Jake Burton said at the time. "This transition is a lot easier—knowing that he leaves Burton at a time when our focus, performance, and team are more solid than ever."
Potdevin joined Toms in early 2011, helping to push the burgeoning shoe brand into sunglasses. "Over the past 20 years, I've been incredibly lucky to be involved with global, iconic brands, and Lululemon is certainly on its way to get there," Potdevin said in a video released this morning by his new employer.
In addition to shoring up sales with its base, Potdevin will be tasked with expanding the business abroad and luring more male shoppers. Maybe he can win over some of the bros who wear Burton.
Before it's here, it's on the Bloomberg Terminal.
LEARN MORE