Yingluck Calls for Fresh Election to End Deadly Thai Protest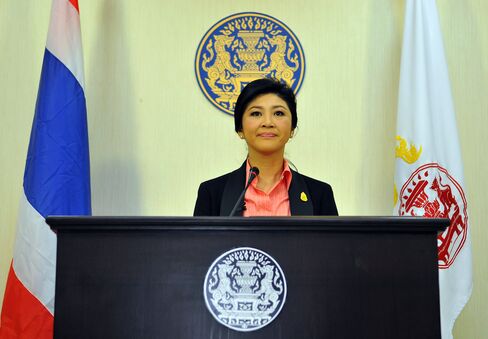 Dec. 9 (Bloomberg) -- Thai Prime Minister Yingluck Shinawatra dissolved parliament and called for fresh elections as more than 200,000 protesters converged on Government House in Bangkok to push for her ouster.
"The government doesn't want the country and the Thai people to suffer more losses," Yingluck said today in a speech broadcast on state television. "Returning power to voters is in line with the parliamentary democracy. We want all of you to see the importance of the election."
Protest leaders said Yingluck's move won't halt their push to install an unelected council to help rid Thailand of the political influence of her brother, Thaksin Shinawatra, whose allies have won every election since his ouster in a 2006 coup.
"Yingluck and her ministers are still acting and have the power." Satit Wonghnongtaey, one of the group's leaders, told supporters at Bangkok's Democracy Monument, according to a live broadcast on Bluesky Television, which is affiliated with the opposition Democrat party. "We want the government to quit their acting posts and form a parliament of the people."
The benchmark SET Index of stocks climbed 0.4 percent to 1,367.42 at the 4:30 p.m. close in Bangkok, after earlier rising as much as 1.2 percent. The gauge is down 1.1 percent this quarter, and global funds have pulled a net $587 million from local equities this month, adding to net sales of $1.5 billion in November, exchange data show. The baht advanced 0.1 percent to 32.129 per dollar.
Election Boycott
"The political uncertainty remains high because the protest leaders have insisted that the house dissolution won't meet their demand," Win Udomrachtavanich, chief executive officer of Bangkok-based One Asset Management, which oversees about $2.6 billion, said by phone.
Opposition lawmakers quit parliament en masse yesterday to join the protests, and may decline to contest an election that must be held within 45 to 60 days, according to Paul Chambers, director of research at the Institute of Southeast Asian Affairs at Chiang Mai University. A military-appointed court disbanded Thaksin's party for violating election laws after the Democrats boycotted a national poll in 2006.
"The Democrats have used this ploy before and can use it again," Chambers said in a phone interview with Bloomberg Television. "They can say 'look, we just won't participate in the election' and basically run democracy into the ground."
Suthep Thaugsuban, the former Democrat party lawmaker who is leading the protests, said demonstrators would stay overnight at Government House. The police estimated the crowd at about 205,000 as of 3 p.m.
Corruption Claims
"I skipped school to join the rally," said Tewarat Supunnjam, 17, as he joined people marching though Bangkok's biggest shopping district. "This government violated people's trust over the amnesty bill and constitutional changes. It's also mismanaged economic policies."
The demonstrators accuse parties linked to Thaksin of vote-buying and Yingluck's administration of corruption and economic mismanagement. They have called for an appointed committee of "good people" to implement political reforms before handing power to a new, elected government.
The rallies began more than a month ago to oppose a proposed amnesty law that Yingluck's critics said would benefit her brother. Thaksin has lived in self-imposed exile since fleeing abuse of power charges in 2008, and has helped guide policy from abroad since Yingluck led the Pheu Thai party to victory in a 2011 election.
Thaksin's Dominance
After the amnesty legislation was rejected by the Senate last month, the protesters switched their goal to dismantling Thaksin's political network. Parties linked to the former premier have won the past five elections on support from voters in northern and northeastern provinces.
Thaksin's Thai Rak Thai, or 'Thais Love Thais' party captured a record number of parliamentary seats in February 2005 elections, delivering the first absolute majority in the country's history and making Thaksin the first prime minister elected for two consecutive terms.
Thaksin's removal in the 2006 coup followed months of protests over his rule and the election he called in an attempt to quell them.
"The military is ready to help build peace and promote unity in the country," Winthai Suvaree, deputy army spokesman, told reporters today. "Although society has differences in opinion, I hope that all stakeholders will work together toward a peaceful solution."
To contact the reporters on this story: Anuchit Nguyen in Bangkok at anguyen@bloomberg.net; Supunnabul Suwannakij in Bangkok at ssuwannakij@bloomberg.net
To contact the editor responsible for this story: Rosalind Mathieson at rmathieson3@bloomberg.net