Sudan Leader Picks Ally as Deputy to Check Islamist Dissent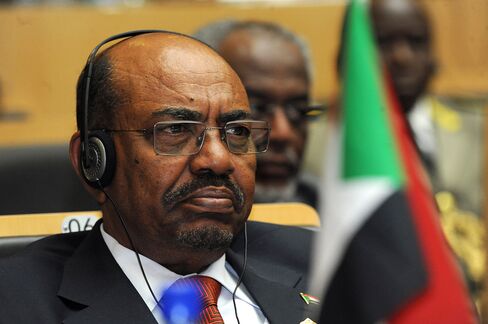 Sudanese President Umar al-Bashir's choice as vice president of a former military officer who helped him seize power a quarter-century ago strengthens the army against Islamists who may threaten his rule, according to Magdi El Gizouli at the Rift Valley Institute.
The choice of Bakri Hassan Saleh, a lieutenant general who participated in the coup that overthrew Sudan's democratically elected government in 1989, may also ease army concern that Sudan could face a succession crisis if Bashir steps down, Gizouli said.
Saleh's appointment "assures the army that if anything happens this is the man to take over," Gizouli, a fellow at the Nairobi-based institute, said by phone yesterday from Freiburg, Germany.
Saleh, a former presidential affairs minister, replaces Ali Osman Taha, who signed the 2005 peace deal that ended Sudan's two-decade civil war. Hasabo Abdel-Rahman, who served as federal governance minister, will be second vice president, Nafie Ali Nafie, deputy chairman of the ruling National Congress Party, or NCP, told reporters in Khartoum yesterday.
The changes come as Sudan's government faces dissent in the wake of September protests in which Amnesty International, the London-based advocacy group, said more than 200 people were killed.
Former presidential adviser Ghazi Salaheddine Atabani and other ex-NCP supporters in late September criticized the party's response to protests, accusing it of betraying its Islamic foundations. Atabani is among those planning a new political party.
Bashir Indictment
The weekend's change in government wasn't "due to disputes," Bashir told a rally by supporters in the capital, Khartoum, on Dec. 7. "We want to push a group of youth and prepare them" to lead the country, he said.
Bashir, who says he wants to step down by presidential elections scheduled for 2015, is indicted by the International Criminal Court for alleged war crimes in Sudan's western region of Darfur.
The army fears Bashir's surrender of power may lead to "surrendering a lot of people to the court," Gizouli said.
Taha, who headed an Islamist council formed to support Bashir's government after he took power, was the movement's "last veteran" in office. Sidelining him is reminiscent of Bashir's removal of Sudan's most prominent Islamist theoretician, Hassan al-Turabi, from his role as head of parliament in 1999, Gizouli said.
Maneuvering Room
Saleh's appointment gives Bashir "room to maneuver if he doesn't run in 2015" and may allow him to support a candidate with military credentials, according to al-Tayeb Zein al-Abedin, a politics professor at Khartoum University.
Other appointees, including new ministers of finance and oil, fail to "meet any expectations -- not those of the political parties who want more power-sharing, nor the youth or those in the street," Zein al-Abedin said today by phone.
The changes may signal a shift against Islamists who supported Bashir's coup, according to Kamal Omar, political secretary in Turabi's opposition Popular Congress Party.
Bashir has staged "a coup against civilians in the government" that concentrates power in his hands, Omar said yesterday by phone from Khartoum. Neither vice president "has the character to stand up to the president," he said.
While Sudan's army backing may help insulate him from popular dissent, Bashir's narrowing of his support base risks alienating more ruling party members, according to Gizouli.
"The largest threat Bashir is facing is the NCP," he said. By "running his own show," Bashir is "essentially a liability to the power establishment."
Before it's here, it's on the Bloomberg Terminal.
LEARN MORE