Fiat Looks to Maseratis, Jeeps, and the Cute Little 500 for a Jump-Start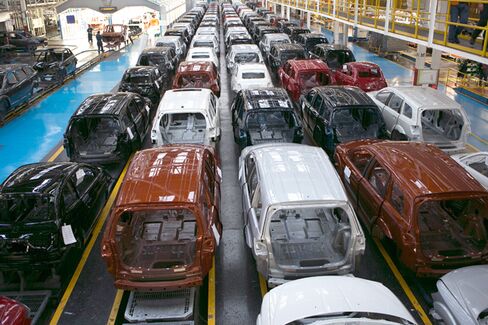 Sergio Marchionne brought the peppy little Fiat 500 to the U.S. as part of a high-stakes bid to rescue Chrysler. Now Marchionne, the chief executive of both Fiat and Chrysler, is preparing to make another big gamble.
He's set to invest as much as €9 billion ($12.3 billion) on an overhaul of Fiat's European operations, Bloomberg News reports, citing people familiar with the matter. The plan calls for expanding Fiat's high-end lineup of Alfa Romeo, Maserati, and Jeep vehicles—and manufacturing them in Italy in hopes of trading on the cachet of Italian design and craftsmanship.
Among the planned new models are a Jeep sport-utility vehicle and a convertible version of the Alfa Romeo 4C. "Italy is an expensive place to build vehicles. They have to increase the margins of the vehicles they produce there," says Ian Fletcher, an auto analyst at IHS in London.
Marchionne also plans to make the counterintuitive move of discontinuing a bestselling midmarket car, the Fiat Punto, while expanding the Fiat 500 lineup. The 500, a subcompact that lists for $16,000 in the U.S., doesn't look at first glance like the kind of high-margin car that could be manufactured profitably in Italy. But many buyers order options, ranging from sunroofs and sound systems to custom paint jobs, that can easily double the purchase price.
Not all 500s will be made in Italy, either. Marchionne's plan calls for setting up production of a new five-door model in Poland, where auto workers' wages are about one-fourth the level in Italy, according to data from German industry group VDA.
A Fiat spokesman declined to comment on the Bloomberg report. Marchionne has already hinted that Fiat would place greater emphasis on luxury car production in Italy, telling analysts and investors that Fiat will not shut plants in Italy but rather will shift production capacity "in accordance with our premium brand strategy."
The strategy mirrors that of Volkswagen, which exports Porsches and Audis from its relatively high-cost German factories while making midmarket models in lower-cost venues such as Slovakia.
The risk is that Fiat won't be able to sell enough high-end cars to keep its 30,700 Italian production workers employed. That could lead to a flareup of labor strife that the struggling company can ill afford.
Still, Marchionne needs to do something. Fiat's European business has cratered, with deliveries in the region down 47 percent from 2009 to 2012 and market share falling from 9.3 percent to 6.2 percent since 2009. Operating losses since 2011 have reached nearly €2 billion, and thousands of Italian auto workers have been furloughed.
Even the Fiom union, which has criticized Marchionne's labor policies, is supporting the plan to focus on high-end cars. "Going upscale is the right choice and should be supported," says Federico Bellono, head of Fiom in Fiat's hometown, Turin. "Fiat should admit openly that it won't rehire all its workers in Italy."
Before it's here, it's on the Bloomberg Terminal.
LEARN MORE