Fed's Bullard Sees Higher QE Taper Odds as Labor Market Improves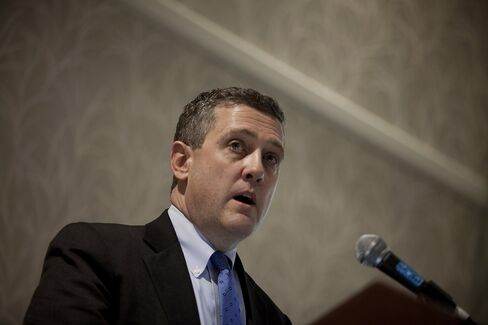 Federal Reserve Bank of St. Louis President James Bullard, a voter on policy this year, said an improving job market has increased the chances of a reduction in the Fed's bond purchases, and any cut should be modest because of too-low inflation.
"A small taper might recognize labor-market improvement while still providing the committee the opportunity to carefully monitor inflation during the first half of 2014," Bullard, a supporter of record stimulus, said yesterday in St. Louis. "Should inflation not return toward target, the committee could pause tapering at subsequent meetings."
With the U.S. labor market showing signs of strengthening, the Federal Open Market Committee may start dialing down $85 billion in monthly bond buying at a Dec. 17-18 meeting rather than wait until January or March, according to 34 percent of economists in a Dec. 6 Bloomberg News survey. In a poll last month, 17 percent of economists predicted a December tapering.
U.S. employers added more workers than forecast last month, and the jobless rate fell to a five-year low of 7 percent, the Labor Department said last week. The FOMC has pledged to press on with bond buying until the outlook for the job market has "improved substantially."
"Based on labor-market data alone, the probability of a reduction in the pace of asset purchases has increased," Bullard said to the CFA Society of St. Louis.
Black-Out Period
"To the extent that key labor market indicators continue to show cumulative improvement, the likelihood of tapering asset purchases will continue to rise," Bullard said before Fed officials begin a so-called black-out period, refraining from comments on policy one-week before a FOMC meeting. "The committee's 2012 criterion of substantial improvement in labor markets gets easier and easier to satisfy on a cumulative basis as labor markets continue to heal," he said.
Signs of strength in the economy reinforce the view of policy makers who want to begin scaling back bond purchases, said Christopher Low, chief economist at FTN Financial in New York.
"The economy's firing on several cylinders now," said Low, who changed his prediction of the first taper to December from March after the government's Dec. 6 payrolls report. Gross domestic product climbed during the third quarter at a 3.6 percent annualized rate, the strongest expansion since the first quarter of 2012.
'Improved Substantially'
Bullard, speaking to reporters after his speech, said he may favor slowing purchases at the December meeting.
"If you did taper here in December, it would acknowledge that labor market data has been stronger than expected," he said. "The committee should do something to acknowledge the progress that has been made in labor markets," he said.
Bullard said he opposes a proposal -- backed by Fed district bank presidents including Richmond's Jeffrey Lacker and Atlanta's Dennis Lockhart -- of setting a timetable for an end to bond purchases or a total amount of planned buying.
A commitment linked to dates on a calendar would be a step backward from a "state-contingent policy" tied to economic data, Bullard said.
Lacker said yesterday he sees "value to avoiding having to make a lot of separate decisions about the pace of purchases and that makes me attracted to something that's more of a telegraphed path of pace reduction."
Such a timetable "is pretty easy to follow through with and it's pretty clear and well defined," Lacker said to reporters in Charlotte, North Carolina. He doesn't vote on policy until 2015.
Fairly Valued
Price valuation measures suggest the U.S. stock market is fairly valued and isn't an asset price bubble that should concern policy makers, Bullard said.
A Fed announcement of reduced bond buying probably won't jolt financial markets, Bullard said.
"Now if we taper soon, I actually think financial markets should be able to digest that," he said in response to audience questions. "We would be tapering in response to stronger financial data and therefore I think markets would be a lot more comfortable with that as opposed to the June situation," when the Fed hinted at tapering while data suggested the economy wasn't "strong," he said.
Dallas Fed President Richard Fisher, an opponent to bond buying who holds a policy vote next year, said he favors scaling back so-called quantitative easing as soon as possible.
"We at the Fed should begin tapering back our bond purchases at the earliest opportunity," and cease "from interfering with the normal price-setting functioning of financial markets," Fisher said yesterday in a speech in Chicago.
Stocks Rose
U.S. stocks rose yesterday, with the Standard & Poor's 500 index up 0.2 percent to 1,808.37 in New York, as investors weighed the timing of possible cuts in Fed stimulus. The yield on the 10-year Treasury note fell 0.02 percentage point to 2.84 percent.
Bullard, noting inflation is well below the Fed's target, has in the past urged policy makers to refrain from reducing asset purchases or raising interest rates. Instead, he has proposed that the Fed pledge not to raise the benchmark interest rate if inflation is below 1.5 percent.
The St. Louis Fed official reiterated his concern about weak inflation.
"There is no widely accepted reason why inflation is running as low as it is in the face of extraordinarily accommodative policy from the Fed," he said.
The Fed's preferred measure of inflation, the personal consumption expenditures index, showed prices rising 0.7 percent in the 12 months ended in October.