Renzi Wins Leadership of Letta's Party Amid Italian Turmoil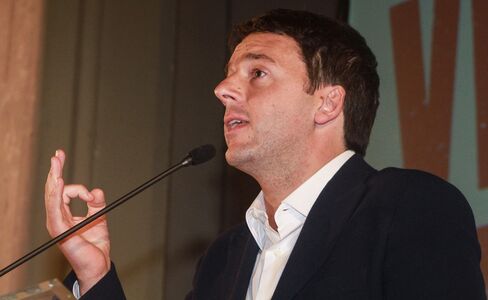 Dec. 9 (Bloomberg) -- Matteo Renzi won leadership of the biggest Italian political party, making the 38-year-old Florence mayor the key figure in Prime Minister Enrico Letta's effort to save his government.
Renzi was declared general secretary of the Democratic Party after getting more than 1.5 million votes, or 68 percent of the total, yesterday in Rome. In his victory speech, Renzi signaled he will use his new role to press for change.
Italy "has the worst group of leaders in all of Europe over the last 30 years," Renzi said. They "use the word stability as a pretext for their own immobility."
Renzi, who takes control of the party's 401 lawmakers, will meet Letta, also a Democrat, in coming days to talk about resetting the government's policies. In a press conference today in Rome, Renzi said withdrawing support from the government "isn't an issue on the agenda."
Renzi is the latest party chief that Letta, 47, must coax into supporting his government after his first seven months were dominated by negotiations with former Prime Minister Silvio Berlusconi. The downfall of Berlusconi, who exited the alliance and was kicked out of parliament last month, boosts Renzi's influence within the three-party coalition.
"No one really knows what he's up to," Francesco Galietti, founder of research company Policy Sonar in Rome, said of Renzi. "There's a general consensus that he can only kill the government if he does so immediately. If he hasn't killed it by January, it means he is playing along."
Pressuring Government
Renzi demonstrated a willingness to pressure the government during his campaign, saying in a Dec. 1 interview with la Repubblica that he is prepared to withdraw from the coalition and push for snap elections if his policy priorities aren't respected. The mayor is calling for cuts to administrative spending and an immediate rewrite of the country's election law.
The Democratic Party, known as PD, has about 60 percent of the ruling coalition in the Senate and about 80 percent in the lower house of parliament. Prior to Berlusconi's exit, the PD represented less than 50 percent of the alliance in the Senate.
Renzi built his popularity by challenging established powers in the PD, such as labor unions, and longtime leaders like former Prime Minister Massimo D'Alema. The party, which was built on initiatives for worker rights and progressive taxation, must focus on debt reduction and encourage labor flexibility, Renzi has said.
Giovanni Cuperlo, a member of the lower house of parliament, was second in the PD vote with 18 percent and Giuseppe Civati, also a lawmaker, had 14 percent.
The PD became the largest party in parliament after the February general election. Still, the showing was considered a failure by many because it didn't win enough seats to govern alone. That cost then General Secretary Pier Luigi Bersani his job and cleared the way for Letta to form a government with the help of Berlusconi and ex-Premier Mario Monti.
To contact the reporter on this story: Andrew Frye in Rome at afrye@bloomberg.net
To contact the editor responsible for this story: James Hertling at jhertling@bloomberg.net