Mandela Leadership Forged by Hometown Chiefs at Qunu Village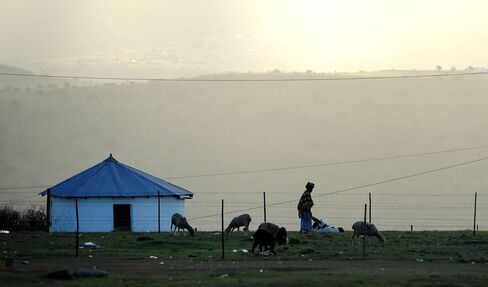 The three blue-gum trees under which Nelson Mandela learned to be a leader still stand at the Mqhekezweni Great Place near Qunu, formerly the seat of kings of the abaThembu tribe in South Africa's Eastern Cape Province.
Under those trees more than 80 years ago, tribal elders and the regent would meet to discuss matters ranging from drought to laws imposed by the white government. Anyone, the young Mandela heard as he hid nearby to listen, was free to speak.
On Dec. 15, Qunu will be the burial site of the man who governed by the principles of the Great Place, as South Africa's first democratically elected president. Mandela, who died on Dec. 5 at the age of 95, is mourned by leaders around the world as the man who led his country out of racial discord after 27 years of imprisonment under apartheid. In Qunu he is that, and also is a physical, personal presence.
"Madiba was like a father to each and every person here," said Zebron Sandlana, 67, using Mandela's tribal name. Sandlana grew up about a mile from the house where Mandela lived with his mother, and knew the family. "When he came here for Christmas, he used to visit each and every house, to greet every person."
Sandlana pointed to a church in the distance. "He built it for us," he said. "Lots of things he did for us. That is how he supported this community."
Funeral Preparations
The village bustled over the weekend with preparations for the funeral. Workers were constructing a 4,000-seat pavilion and install portable toilets and marquee tents at Mandela's home. Gangs of workers rushed to complete the highway that passed the house, painting lines on the road, laying paving and constructing roadside barriers and curbs.
Sweepers started cleaning the road leading from the airport in nearby Mthatha, where most of the dignitaries attending the funeral will arrive, while still more workers were laying paving along the sidewalks.
It was at the meetings in the Great Place that Mandela learned both leadership and decision-making by consensus. After his election in 1994, Mandela reached out to his former oppressors, serving in a government of national unity with former president F.W. de Klerk.
Promoting Reconciliation
He promoted reconciliation through symbolic acts including having tea with Betsie Verwoerd, widow of Hendrik Verwoerd, the father of apartheid. These acts earned him criticism from some of his comrades. In his rural heartland, that was nothing less than would be expected from a chief.
"It was democracy in its purest form," Mandela wrote in his 1994 autobiography, "A Long Walk to Freedom." "As a leader, I have always followed the principles I first saw demonstrated by the Regent at the Great Place. I have always endeavored to listen to what each and every person in a discussion had to say before venturing my own opinion. Oftentimes, my own opinion will simply represent a consensus of what I heard in the discussion."
Mandela was born in 1918 in Mvezo, his family's ancestral village on the banks of the Mbashe River about 750 miles east of Cape Town. His father, Gadla Mphakanyiswa, was the local chief and a descendant of the abaThembu King Ngubengcuka, who had died in 1832. Although a member of the extended royal family, Mandela wasn't in line of succession to the Thembu throne, as his grandmother wasn't Ngubengcuka's primary wife.
White Administration
The future president lived in Mvezo until he was three, when his father was stripped of the chieftainship after a dispute with the local magistrate, who represented the white administration.
Today in Mvezo, a paved road, completed this year, has replaced the five-mile dirt track linking the village with the main highway to Mthatha. The road snakes around steep hillsides covered in boulders and succulent aloe plants to the compound where Mandela was born. His grandson, Mandla Mandela, now occupies the chiefdom.
Signs of development are everywhere, from a new school and clinic to houses being built and sewage pipes being laid. Mandla Mandela, also a member of Parliament for the ruling African National Congress, is responsible for that, said Siya Mashone, a taxi driver who grew up in Mvezo and now plies his trade in nearby Mthatha.
"It's a nice place to live now," Mashone said in an interview in Mvezo. "Mandla has brought a lot of things here, and that's also created jobs for people in Mvezo."
Mud-Walled Huts
After his father's death, young Nelson Mandela moved with his mother to Qunu, a larger village to the east. In his book, Mandela described Qunu as a grassy valley crisscrossed by clear streams and surrounded by green hills. People lived in mud-walled circular huts under thatch roofs.
Mandela shared a hut with his mother, sleeping on a mat on the ground and eating mostly maize meal cooked in a three-legged pot over an open fire. Other staples were beans and pumpkin; water had to be fetched and carried in buckets from streams.
While most of Qunu's roads are still unpaved, with the exception of the highway, some roads leading into the township have been given a tarmac cover. Many of the huts have been replaced by modern, multi-room houses with tin roofs.
Cattle Herder
The exception is Mqhekezweni Great Place, which Mandela described as an imposing collection of huts with pristine white-washed walls surrounded by carefully tended lawns. Those lawns are gone. The hut that Mandela shared with his cousin still stands, but needs a fresh coat of paint. The house that the regent occupied is dilapidated and vacant, the doors boarded up.
With other boys, Mandela herded cattle and sheep, collected wild honey, hunted birds with a slingshot and learned to stick-fight. On the hills above Qunu were large smooth rocks down which the boys raced on sledges made of flat stones. The rocks are still there, within walking distance of the Nelson Mandela museum, the paths worn by the bottoms of countless children still clearly visible.
Mandela also went to school: a single-room, pitched-roof building where children were taught the English language, customs and institutions. There he received the name by which most of the world knows him: his teacher, a Miss Mdingane, announced that all children should have English first names and christened him Nelson.
School Renovation
After visiting Qunu as president in 1995, Mandela persuaded Bill Venter, chairman of Allied Electronics Corp. Ltd., to finance through his foundation a renovation of the school that included new classrooms and state-of-the-art computer and biology laboratories.
When Mandela was nine years old, his father died and he was taken into the care of his uncle, Jongintaba Dalindyebo, regent of the abaThembu at Mqhekezweni. There he would hide behind the fence of a sheep enclosure to listen to the counselors debating. He was sent off to school at the age of 16 to be educated so that he, too, could also become a counselor to the king, in accordance with his uncle's wish.
In his years as president, Mandela brought paved roads and electricity, as well as the schoolhouse, to Qunu. What he and his successors couldn't bring was jobs. About one-quarter of the country's work force is jobless; in the eastern Cape, home to Qunu, the rate is 50 percent.
Computer Lab
"We were the first village in this region to get electricity, and we have water, and schools," said Lungile Xozwa, who grew up in Qunu and attended the same elementary school as Mandela -- though it is now equipped with a computer lab. "He was like a father to us. We have a lot to be grateful for here."
Alizwa Sizani, 64, who lives close to Mqhekezweni Great Place and came to Mandela's house on Dec. 6 to pay his respects, agreed.
"He has given us lots of things but what we still need is jobs for the youth," he said. "When they don't have anything to do they turn to crime. There is nothing for them here."
Before it's here, it's on the Bloomberg Terminal.
LEARN MORE