Baby Jake Matlala, World's Shortest Boxing Champion, Dies at 51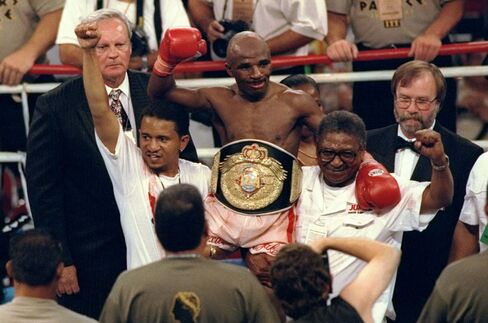 Baby Jake Matlala, the only South African boxer to win four versions of the world title, has died, the ruling African National Congress said. He was 51.
Matlala, whose real name was Jacob, died after battling complications related to pneumonia over the "past few years," Eyewitness News, the Johannesburg-based broadcaster, said on its website. At 1.48 meters (4 foot 9 inches), Matlala was the shortest person ever to become a world boxing champion, according to South Africa's sport and recreation department.
"With his tiny frame and lethal blows that achieved him iconic status amongst South Africans, Matlala demonstrated the greatest that a combination of a good head and a good heart could achieve, the ANC said in an e-mailed statement. ''He was a small giant; a small dynamite whose impact far outweighed its size.''
In a 22-year career that began when he turned professional in 1979, Matlala won the International Boxing Federation and World Boxing Organization, International Boxing Association and World Boxing Union flyweight titles, the only South African fighter to achieve the feat, according to South African History Online, the Cape Town-based research organization.
Nelson Mandela, a boxer in his youth, attended Matlala's last fight in 2002, which he won by a knockout. Matlala was so overwhelmed by Mandela's appearance at the contest that he presented his WBU belt to the country's former president, South African History Online said on its website.
Matlala had 68 fights in his career, winning 53 bouts -- 26 by knockout -- and drawing two, according to BoxRec.com.