Virgin America May Find Troublesome Turf at LaGuardia Airport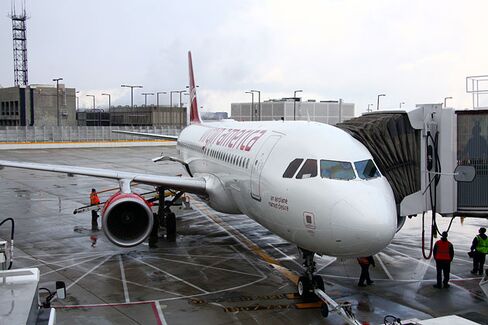 The merger creating the world's largest airline has already produced a clear benefit in New York City for two rivals: Southwest and Virgin America.
Federal regulators said Thursday that Southwest had acquired the rights to 12 new takeoff and landing slots at LaGuardia Airport (as well as full control of 10 slots it had leased from American), while Virgin America will also take over 12 slots to enable its first-ever service at the airport. Yielding prized slots at key airports in New York and Washington was part of the deal American and US Airways struck with the Justice Department to allow their massive merger, which is expected to close Monday.
While the aged LaGuardia certainly doesn't win any "best airport" awards, airlines and business travelers prize it for being the closest airport to Manhattan. Southwest will use the new slots to "enhance our schedule from the Southeast and the Midwest into New York," spokeswoman Whitney Eichinger said in an e-mail. Those new flights are set to start in May.
The move into LaGuardia will mark a bigger departure for Virgin, however, with the airport becoming a bit of an oddity in its network since it imposes length restrictions on departing flights (save for those on Saturday). That limits service from LaGuardia to roughly 1,600 miles, with Denver and Houston the farthest destinations served nonstop. Virgin America has so far focused its 53-jet fleet on upscale service to markets where corporate America flies, emphasizing long hauls from Los Angeles and San Francisco to New York-JFK; Newark, N.J.; Boston; and Washington, along with flights linking San Francisco and Seattle. It has begun serving Chicago, Dallas, and Austin, Tex., with limited flights but has thus far avoided several legacy airlines' fortress hubs: Atlanta, Houston, Charlotte, Denver, and Phoenix.
But Virgin America won't be able to fly from LaGuardia to its West Coast hubs, so it will be forced to adopt an opportunistic focus on the best revenue opportunities—and that likely means new routes to Chicago, Dallas, and Atlanta, a city that Virgin America Chief Executive Officer Dave Cush has conceded the airline will need to eventually tackle. Of course, Delta Air Lines has a long history of defending its home airport ferociously against upstarts.
Virgin America spokesman Madhu Unnikrishnan declined to comment on the airline's LaGuardia plans.
Some airline observers have speculated that Virgin America may decamp Dallas-Fort Worth International for Dallas Love Field once that airport loses its flight restrictions in October, given Love Field's proximity to downtown Dallas. That could mean new nonstop flights from LaGuardia to Love Field, a route that Southwest would likely join. Delta has also said it wants to boost service at Love Field if it's allowed to bid for gates there that American controls.
For Virgin America, expanding to other large cities with significant business travel will almost certainly be expensive once Delta, United, and the new American move to defend their corporate accounts and squeeze Virgin with new flights and discounts. The same strategy has played out most recently in Newark, where United has sought to defend its hub against Virgin America with new service to California and lower fares.
At LaGuardia, which isn't considered a true hub for any airline, a similar scenario could play out on shorter flights. The only difference would be Virgin America taking hits from multiple competitors.
Before it's here, it's on the Bloomberg Terminal.
LEARN MORE