U.K. House Prices Increase for a 10th Month on Supply Shortage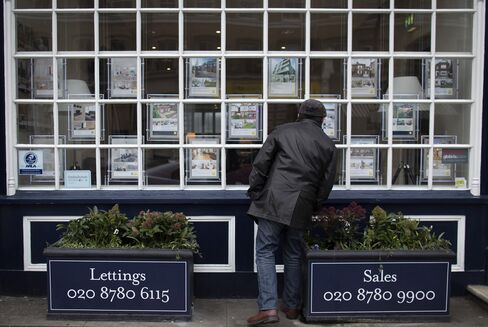 U.K. house prices rose for a 10th month in November as the supply of properties for sale failed to keep pace with demand, Halifax said.
Home values increased 1.1 percent to an average 174,910 pounds ($285,800), the mortgage unit of Lloyds Banking Group Plc said in a statement in London today. From a year earlier, values were up 8.4 percent.
The Bank of England took action last week to restrain Britain's strengthening property market by ending incentives for mortgage lending under its credit-boosting program. Housing demand has been boosted by the Funding for Lending Scheme and the government's Help to Buy program, aimed at helping buyers with small deposits.
"Stronger demand, combined with an insufficient increase in housing supply, has resulted in increases in house prices accompanying higher activity this year," Martin Ellis, a housing economist at Halifax, said in the statement. He added that pressure on consumer finances will "remain a constraint on the rate of growth of house prices."
In the three months through November, home prices rose 2.1 percent from the previous three months. From a year earlier, they were 7.7 percent higher in the quarter, the fastest annual increase in six years.