Nobel Prize Winner Tutu Leads South African Tributes to Mandela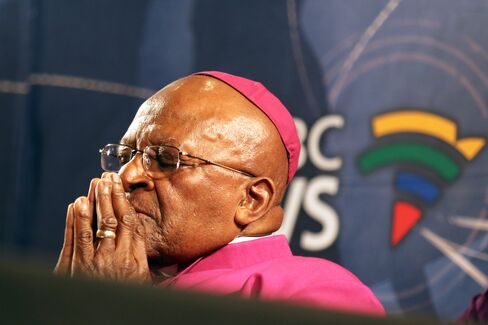 Fellow Nobel Peace prize winner Archbishop Desmond Tutu led South African tributes to Nelson Mandela, who died at his Johannesburg home late yesterday.
"He transcended race and class in his personal actions, through his warmth and through his willingness to listen and to empathize with others," Tutu said in an e-mailed statement today. "And he restored others' faith in Africa and Africans."
Mandela was released from prison in 1990 after 27 years in prison and negotiated a peaceful end to the apartheid regime with leaders of South Africa's white-minority government. Three years later, he won the Nobel Peace Prize and served as the nation's first black president from 1994 to 1999.
Frederik Willem de Klerk, the last president of South Africa elected in a whites-only election, praised Mandela's "remarkable lack of bitterness" in an interview on CNN. Mandela's relationship with De Klerk helped keep talks on course over the four years before South Africa's first democratic elections in 1994 as violence raged on the streets of the country's townships.
Mandela, 95, died at 8:50 p.m. yesterday at his home in Houghton, a suburb in northern Johannesburg, South African President Jacob Zuma said in a televised speech to the nation.
Mandela struggled for a half-century against apartheid, and founded the African National Congress's armed wing in 1961, transforming a movement that had drawn inspiration from Mahatma Gandhi's peaceful resistance in India. He persuaded the ANC to renounce violence in favor of talks on his release from prison.
Great Leader
"When I grew up he was a terrorist," Clive Zulberg, 42, who runs a security company, said outside Mandela's house in Johannesburg. "In school I learned that he was a prisoner and when I started my business he was president and a great leader."
The ruling ANC said Mandela served the party with distinction.
"Our nation has lost a colossus, an epitome of humility, equality, justice, peace and the hope of millions here and abroad," ANC Secretary General Gwede Mantashe said in a televised statement on the South Africa Broadcasting Corp.
George Bizos, a human rights lawyer who defended Mandela during the Rivonia Trials in the 1960s, said he was struggling to come to terms with the death of his "great friend."
"It's very difficult to accept that he will no longer be around," Bizos said in an interview on ENCA news. "He will go down in history forever as the one person who set an example that fundamental differences between people can be solved without violence."
Live Forever
Denounced by U.K. Prime Minister Margaret Thatcher as a "terrorist" in the 1980s, Mandela became a statesman who visited Queen Elizabeth II and counted former U.S. President Bill Clinton as a personal friend.
Mandela won over most white South Africans, who were reassured by his words of reconciliation.
"You will be missed, but your impact on this world will live forever," South African academy award winning actress Charlize Theron wrote in a post on Twitter. "There will never be words to say what I'm feeling right now. I am saddened to the depths of my soul."
Nelson Mandela was born on July 18, 1918, in the remote village of Mvezo in South Africa's Eastern Cape province. Mandela was drawn to politics in his teens while listening to elders talk about the freedom they had before white rule.
Greatest Son
"Nelson Mandela was perhaps South Africa's greatest son, but he was also an icon for the world," said Adam Habib, professor of political science at the University of Witwatersrand. "Across the world people involved in struggles against oppression and exploitation use him as a symbol to unite that struggle."
Embracing an issue largely ignored by his successor as president, Thabo Mbeki, Mandela became a champion of the fight against AIDS in South Africa, disclosing that three of his family members had died of the disease. Mbeki paid tribute to Mandela today.
"His passing signals the end of an historic era represented by the heroic deeds of his generation," Mbeki said on SABC television. "His generation of freedom fighters walked their long walk and made enormous sacrifices which eventually led to our freedom in 1994."
Before it's here, it's on the Bloomberg Terminal.
LEARN MORE