Nike, Adidas, and the Odds of Outfitting a World Cup Champion
All eyes are on Brazil this morning as the 32-country field for this summer's World Cup is divvied up into eight groups. The giants of sports apparel, however, have already set their brackets with deals to design and supply the uniforms of each contender.
In other marquee sports, there's no suspense among the sponsors. The winner of the Super Bowl in February will be plastered in Nike gear, and whoever hoists the Stanley Cup in April will be wearing Reebok. But the World Cup, like the Olympics, is a rare competition that isn't locked up by a single sportswear company, making it a tournament to determine which corporate marketing team has most effectively deployed its sponsorship dollars.
Adidas, the official sponsor of the coming World Cup, has struck deals to get its jerseys on the defending champions from Spain, the Argentine side with arguably the best player in the world, and the company's German home team. Nike has backed 10 teams, including Brazil, the hosts and heavy favorites, its U.S. home team, and England. Puma, meanwhile, has taken a value-oriented approach by spreading its sponsorship dollars over eight underdog countries.
Based on odds of winning it all, Nike has the single most likely team while Adidas has the next five. Puma slides into the eighth and ninth slots with Uruguay, and Italy (both of which were recently given a 5 percent chance of prevailing).
Surprisingly, Under Armour is not in the hunt, despite the company's promise to drum up international business and expand its efforts from football to futbol.
So which apparel logo will appear in the all-important image swarmed by frenzied confetti as a triumphant captain hoists the golden trophy this summer? We crunched the current odds for each team from betting books and then filtered those results by the company outfitting each side. Though Nike will have its swoosh on the favored Brazilians, Adidas has tilted the field in its favor.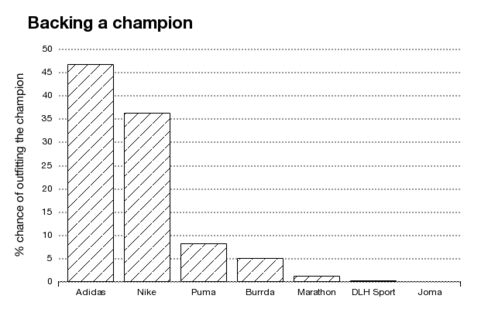 Winning isn't everything. Switzerland, for example, doesn't have much of a chance of taking home the title but it's still a pretty good place to sell sneakers. When the World Cup contenders are ranked by GDP, the sponsorship advantage swings to Nike, primarily because it has the U.S. in its camp.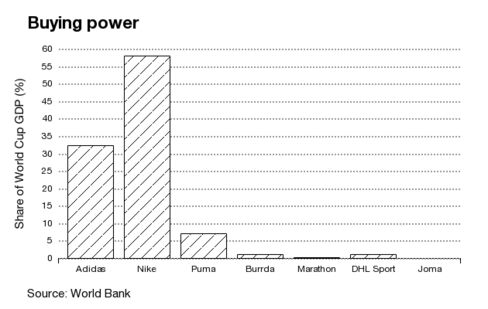 But money isn't everything, and plenty of less wealthy kids in the favelas of Rio will be scratching together reais to buy an official Brazil jersey. Enthusiasm in the Ivory Coast and Algeria is no different. Adidas also stands out on this front: playing for scale rather than economic sweet spots. By backing long-shot contenders like Japan, Nigeria, and Russia, it has co-opted more potential fans than any of its competitors.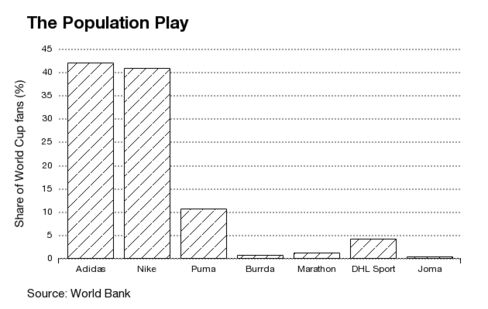 Before it's here, it's on the Bloomberg Terminal.
LEARN MORE