Consumer Sentiment in U.S. Increases More Than Forecast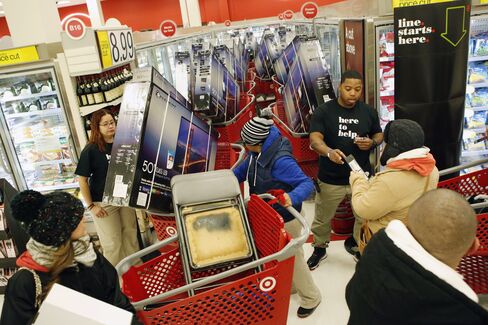 Consumer confidence increased more than forecast in December to the highest level in five months, easing concern about household spending heading into the holiday-shopping season.
The Thomson Reuters/University of Michigan preliminary December consumer sentiment index rose to 82.5, the strongest since July, from 75.1 in November. Economists forecast an increase to 76, according to the median estimate in a Bloomberg survey.
Gains in employment, property values and stock portfolios are supporting confidence as concerns ease that gridlock in Washington will harm the economy. An improvement in consumer sentiment means households may feel more inclined to loosen their purse strings during the holiday shopping season.
"We have seen consumer confidence generally moving higher for upper-income households, but we also are seeing gains among most households because of the improving labor market," Dean Maki, chief U.S. economist at Barclays Plc in New York, said in an interview before the report. "That's the factor that's pushing confidence up."
Forecasts of the 54 economists in the survey ranged from 71 to 82. The index averaged 89 in the five years before December 2007, when the last recession began, and 64.2 in the 18-month contraction that ensued.
Consumer Comfort
Today's figures compare with the Bloomberg Consumer Comfort Index, which rose last week to its highest level since early October. The Bloomberg gauge improved to minus 31.3 in the week ended Dec. 1 from minus 33.7 the period before.
Another report today showed employment improved last month, with payrolls growing by 203,000 following a revised 200,000 advance in October, according to Labor Department figures. The unemployment rate fell to 7 percent, the lowest level in five years.
The pickup in employment, combined with faster wage gains and more hours, provides American workers with the means to spend and signals companies are confident that demand will improve.
The Michigan survey's current conditions index, which takes stock of Americans' views of their personal finances, increased to 97.9 in December from 88 last month. The jump was the biggest since the end of 2008.
The index of expectations six months from now climbed to 72.7 this month from 66.8 in November.
Home Prices
Americans may also be feeling wealthier as real estate prices continue their climb and stocks fluctuate near record highs. The S&P/Case-Shiller national home-price gauge rose 11.2 percent in the third quarter from the same period in 2012, the biggest year-over-year advance since the first three months of 2006.
The Standard & Poor's 500 Index closed at 1,785.03 yesterday. The gauge climbed 0.8 percent to 1,799.81 at 10:07 a.m. in New York, near the record high of 1,807.23 reached Nov. 27.
Even so, the road to recovery hasn't been a smooth one. While the economy is improving, "it is a slow and fumbling and fragile recovery that often gets that often gets sort of interrupted by debt ceiling crises and fiscal cliffs and things like that," Jeff Norris, senior vice president of investor relations at Capital One Financial Corp., said Dec. 3 at the FBR Fall Investor Conference. "It's been a slower rebound in confidence levels, and therefore, consumer behavior has remained conservative, kind of for a longer period of time in this cycle."
Corporate Profits
The credit-card lender posted third-quarter profit from continuing operations of $1.88 a share, beating the $1.81 average expected by analysts.
Cheaper gasoline may give Americans one reason to feel better about their finances. The average cost of a gallon of regular-grade gasoline was at $3.26 yesterday, compared with the 2013 high of $3.79 reached Feb. 26.
Today's Michigan survey showed that Americans expect an inflation rate of 3 percent over the next year, up from 2.9 percent in November. Over the next five years, Americans expect a 2.8 percent rate of inflation, down from 2.9 percent seen last month.
Federal Reserve officials are keeping an eye on inflation as they consider scaling back their $85 billion-a-month bond-buying program, known as quantitative easing. Policy makers have signaled they may taper "in coming months" if the economy improves as anticipated, according to minutes released Nov. 20 from the Fed's Open Market Committee meeting concluded Oct. 30.